Neither Rain Nor Snow…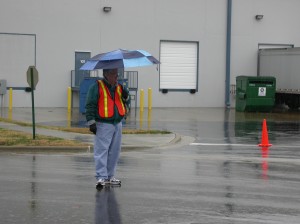 Superman's cape is red.  Batman's is black.  The Summit's super heroes wear orange.
Yeah I said it: orange.  If you were here on Sunday, you know that it was a nasty, funky, rainy, dreary day.  It was great weather to be a duck, but that's about it.  People showed up, went straight to the coffee, grumbled a half-hearted "good morning," and then went into the auditorium to drip-dry.
Except for a couple of dozen guys spread across a few campuses.
At Brier Creek AM, Cole Mill, and West Club, the First Impressions parking team started the day just like any other.  They set up traffic cones and signs and went to work making sure that every guest received first-class treatment.  These guys regularly brave the heat of summer, the cold of winter, and the rain of this past Sunday, and you never hear them complain.
They do it because they get to, not because they're guilted to.
I love these guys.  I love this team.  When I get a chance, I like to throw on an orange vest and get out there with them.  Seriously.
I'm not sure of a team at the Summit that bonds any quicker than our parking team.  Let's face it…when you have a car full of college students barreling down on you at 50 miles an hour, you don't have a choice but to bond.
They love what they do…they are good at what they do…and they will park your big ol' fender in Fuquay Varina if you make fun of what they do.
This Sunday, please roll down your window and thank these guys for their service.  Better yet, sign up to be a part of their team.  They're watching out for you, rain or shine.