"I Believe" Starts Tomorrow Night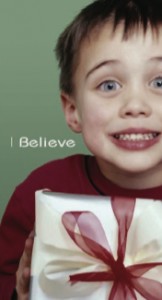 I won't rehash what I've already said.  If you missed the earlier commercial about the Triangle's best Christmas celebration, you can catch up here.
But for now, I'll make you a promise: you come to Christmas at the Summit and bring all your friends, and we'll stop making you look at the picture of the creepy half-headed kid.
Seriously…this sucka is going to be incredible.  Miss it, and you'll kick yourself until January.