Above the Clouds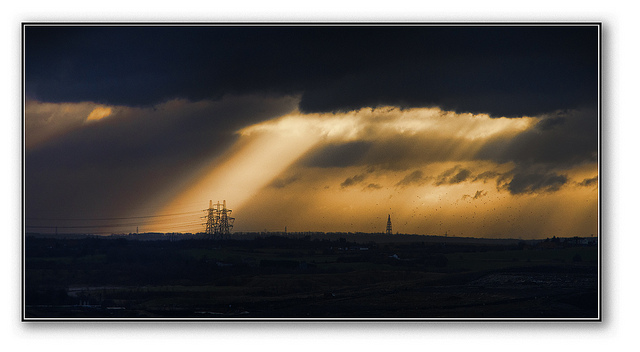 Last week I spent some time talking about guest services with a church in the great state of Arkansas (official motto: "It Always Rains When Danny Is In The Great State Of Arkansas"). When I flew out of Memphis on Tuesday, I'd crammed six years' worth of overcast skies into four days. So when my flight took off and we broke through the clouds, I was having a Johnny Nash moment, and feeling a bit more than poetic.
I pulled out my phone, tossed it in airplane mode (because it's well documented that my electronic device causes stuff like this to happen), and tapped out this tweet that I'd send once we touched down:
Friends, I've flown above the clouds, and the sun is still shining.
I just knew that this would be the tweet that would grow legs. It would go viral. People would fave it and gold stars would be tossed out like cheap butterscotch mints at a Christmas parade. Grandmas would cross stitch it and hang it above the family Bible in the living room. Oprah would hear about it, immediately start following me on The Twitter, and invite me on the show to talk about polyps with Dr. Oz.
And then I landed in RDU, where apparently the sun had never gone behind the clouds.
Doh!
But regardless of my shipwrecked tweet and a weather map with terrible timing, the truth is that I tend to spend a fair amount of time under the clouds. I'm overcome by the overcast. Dogged by the fog. The cirrus turns me serious.
(sorry, I couldn't resist)
I think we all get to the point where we forget that there's a brighter world above the clouds. Stuck in our circumstances, we lose sight of our mission. Past successes are a misty memory and long-range vision turns murky. Our whole life looks like King David's songbook: deliriously happy one moment, sucking our thumb in the fetal position the next. We become a Martha when it's much better to be a Mary.
David Allen of Getting Things Done fame talks about this in terms of our 20,000 foot view: those areas of responsibility that supersede our currently overwhelming projects. 20,000 feet puts our schedules above the fray and into focus. Last week I talked about it in terms of pride ("I can get it all done!") vs. anxiety ("What if I can't get it all done?").
So here's the question of the day: how do you reach 20,000 foot level? Do you take time each week to plan? Do you break away from the office for some quiet catch up time? Do you stick your fingers in your ears and scream "la la la la LAAA" and hope it all goes away? (Not that that's my strategy or anything. Why do you ask?)
And spiritually speaking, what does this look like for you? How do you refocus your day (week…month…life) so that the peace that Jesus offers isn't bowled over by the urgency our schedule offers?
Comment below.
The good folks over at the FTC want me to tell you the following: if you order a resource from a link on this page, I may receive a small affiliate commission from Amazon. If that bugs you, feel free to bypass my link and buy from a vendor of your choice. But still: buy it. I only promote items that have benefitted me and that I believe will benefit you.