Six Things You Need To Know About Your Wedding (part one)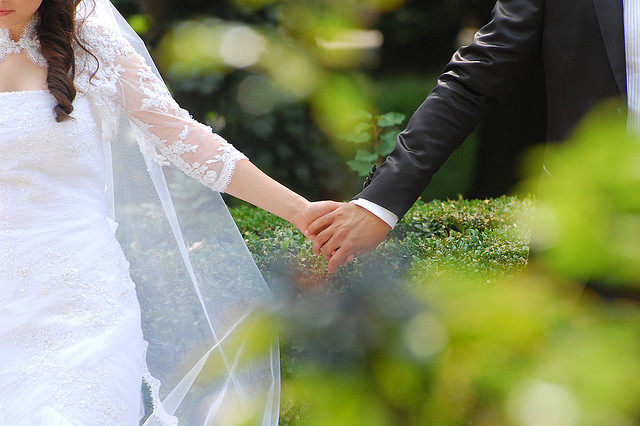 Gather 'round, children. Uncle Danny is going to divert from the normal posts about guest services be pastoral for a moment. Maybe even Grandpa-like.
It's wedding high season around these parts. I've officiated three ceremonies in the last two months and have another one coming up in just a few weeks. I am a veteran of nearly 30 weddings (those are the ones I've officiated; I've only personally been a veteran of one). And during those 30, I've learned a thing or six that needs to be passed along to the hitching generation.
Please note: these six things are related to the ceremony itself. Yes, I believe that a couple should have biblically-based counseling prior to getting married. I believe that Sacred Marriage is required reading for every single couple. (And I believe that China patterns are overrated and if they'd had those scanner guns at Target when I got married that process would have been a lot more fun and maybe I'd have a super sweet Nintendo 64 right now.) So save your emails about how you think that number seven on this list should be that you get the father's blessing before popping the question. I get it.
But here's what I believe every marrying couple needs to know about the day of their wedding. Get out your notepads and prepare to ignore the irrelevant old preacher man:
1. Take your photos prior to the ceremony. That's right. I'm coming off the top rope early in this round. When Merriem and I got married, my brother was our photographer. When he made this suggestion, I thought my future wife and her mother would each claw out one of his eyeballs. But he finally convinced us that pre-ceremony photos allowed us to get a massive time-stealer out of the way and kept us from playing beat-the-clock with the reception. We took every single photo prior to the ceremony except the one with our pastor and the ones with our grandparents.
"But wait!" you say, "What about the big reveal? Didn't you lose a huge moment by not seeing her walk down the aisle?" Nope, and here's why: Merriem, her mom, and me and my brother were the first to arrive at the church. She put on her wedding gown and I tuxed up. My brother put on some weddingish music in the auditorium while I stood at the altar. My mother in law swung open the door so I got my first look at my bride as she walked down the aisle.
Merriem and I were alone for the next 20 minutes…laughing, crying, and talking…opportunities we wouldn't have had with a few hundred friends in the room. For us, it made the rest of the day a piece of cake. Nearly twenty years later, we don't have one single regret about heeding the "photos before" advice.
If you don't follow my counsel on number 1, I won't be mad at you. I will, however, clean out the appetizer trays at your reception because I'll get hungry waiting on you.
2. Expensive doesn't equal memorable. We live in a day of Bridezillas and TLC specials. Everybody wants their ceremony to have a full orchestra, their reception to have life size ice sculptures, and each of their guests to get their own tuxedoed chihuahua as they go home. I've presided over $50,000+ weddings and less than $5,000 weddings, and the one that I still talk about was the one that was undoubtedly the least expensive to pull off. The ceremony was in a tent on a horse farm, the reception featured a make-your-own-s'mores campfire and cornhole boards, and the groomsmen wore suits they already owned rather than rented tuxes. And yet, it was without a doubt the most fun experience I've ever had, and the one that people still refer to as the benchmark for a unique ceremony.
You do not have to mortgage your house to have a great wedding. Your friends are there to celebrate you, not your prime rib. If you have the means to throw a lavish wedding and it not make a dent in your budget, then don't let me stand in your way. But don't do it as a way to keep up with the Kardashians.