Deck The Alls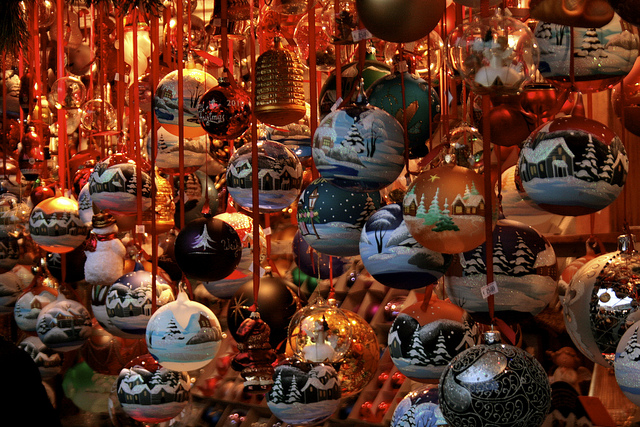 Last weekend our family participated in a time-honored annual tradition that unites us with our kinsman around the globe. The annual tradition that heralds the holiday season. The annual tradition that puts gleams in eyes, smiles on faces, and heartwarming memories in…uh…hearts.
I'm talking, of course, about the yearly household Christmas decorating extravaganza.
Our annual tradition consists of us pulling approximately 4,212 Rubbermaid containers out of the garage, out of the attic, out from under beds, and out of closets I didn't even know we had. Apparently, 92% of our home is simply Christmas decoration storage boxes masquerading as furniture. All this time I've been sleeping on eight boxes that contain 46 miles of garland, but with an eggshell mattress and a comforter on top.
And normally, our annual tradition devolves into a massive relational breakdown when it comes to the Detangling O' The Lights. It's true: for 21 Christmases now, Merriem and I can count on at least one knock down drag out that ends in burned out bulbs and broken dreams. Except that this year, miracle of all miracles, we didn't have the Christmas Tree Light Fight. No, we had gotten all of our energy out earlier in the day during the Decorative Napkin Fight.
The way that the Decorative Napkin Fight works is as follows: Merriem hands me a stack of leftover Decorative Thanksgiving Napkins, and asks me to store them in her Decorative Napkin Box. I make my way to said box in the garage, remove the lid, and BLAMMO (you remember those fake cans of peanuts that have the springy snakes? Yes. Like that. Except 1,000 times worse.) out pop 21 years' worth of Decorative Napkins. We have Decorative Napkins for Thanksgiving, Decorative Napkins for Christmas, Decorative Napkins for Easter, Decorative Napkins for graduation, Decorative Napkins for birthdays (ages 1-40, both genders), and Decorative Napkins for non-specific cookouts.
As a matter of fact, if you're a hazel-eyed Libertarian from Wyoming who likes to party on Arbor Day, you should drop by, because I'm pretty sure there's a 24 pack of Decorative Napkins just for you. We buy them in bulk from Party City, Target Dollar Spot, Michael's, Kohl's, HomeGoods, you name it: if there's a Decorative Napkin, it belongs in our Decorative Napkin Box. Centuries from now when North Carolina is covered by ash from a still-unexploded volcano, archaeologists will reconstruct our civilization by studying the sedimentary layers of Decorative Napkins they uncover in our garage. ("I have no idea who these people were, but man were they ever prepared for a bar mitzvah with a Veggie Tales theme!")
As I said, the Decorative Napkin Box exploded, and apparently I didn't understand the art and the science of (a) why we own it, and (b) why we have so many of them, and (c) why it's important to keep two napkins that are left over from a pack of 32 ("YOU NEVER KNOW WHEN WE'LL HAVE A NEED FOR A PAIR OF MINIATURE GOLF TOURNAMENT NAPKINS!")
Anyway, I'll sum this fight up by explaining something to my male brethren: there is no such thing as too many Decorative Napkins. Or at least that's what my wife convinced me of, if you get my spousal intimidation drift.
But I digress.
Once the Decorative Napkins had been laid to rest and the official Christmas Decorating Season had begun, we brought the family together for the collegiality, mirth, and bonding that only Christmas decorating can provide. And by "family" I mean except Jacob, who was working, and Jase, who had spent the night with grandparents, and Haven, who was invading all of the Rubbermaid boxes and needed to go down for an early nap, and Austin, who reminded us frequently that Christmas decorating wasn't exactly his thing, communicated through a helpful series of grunts and eye rolls.
I had somewhat of an epiphany while wading through the 4,212 Rubbermaids on the way to Christmas decorating nirvana: aside from the Christmas tree and stockings, every household item has a December counterpart. Here's what I mean: at Halloween, you put pumpkins on your front porch. At Easter, you toss plastic eggs in your yard. On birthdays, you whip out a cake and streamers. There tends not to be a lot of pumpkins and eggs and streamers at other non-holiday times of the year. But Christmas? You simply take away all your January – November junk and replace it with December junk.
Regular household dishes? Christmas household dishes! Living room couch throw pillows? Living room Christmas couch throw pillows! Regular salt and pepper shakers? Christmas salt and pepper shakers! Crappy Lifetime movies? Crappy Christmas Lifetime movies!
As we popped in Amy Grant's CD (Tender Tennessee Christmas is my jam), I realized that we were removing every item from our house only to replace it with the exact same item, only in a red or green hue with jingle bells or a picture of a jolly snowman strapped to it. And in just 23 days, we'll reverse the process and put every single thing back, as if it never happened. The stress of it is enough to make a grown man cry.
Good thing I have plenty of Decorative Napkins to dry my tears.