You Don't Have To Be The Best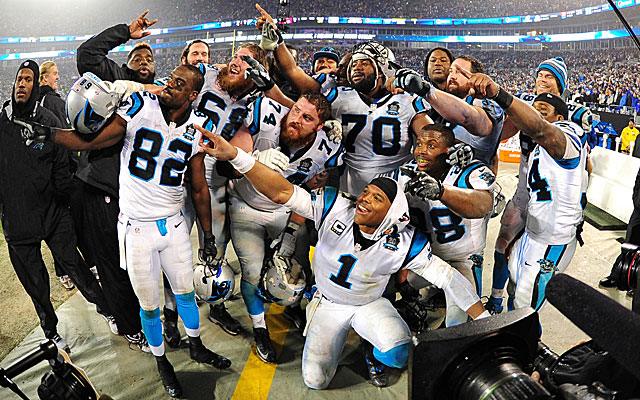 Alert reader and fellow Summit Pastor Josh Navey sent me this article yesterday. Josh knows I'm not a football fan (translated: didn't play, don't watch, couldn't tell you the difference between a Bear and a Buccaneer, and I had to Google "NFL teams" just to come up with two names that started with a B for that previous illustration).
So I immediately knew Josh wasn't sharing the article based on my sports prowess, but rather because our beloved* Carolina Panthers had done something wow-worthy.
Here's a portion of the article, taken from CBS Sports:
The Carolina Panthers may have lost in the NFC divisional playoffs to the defending champion Seattle Seahawks, but they may have secured themselves a new fan along the way.

Cade Pope, a 12-year old NFL fan, sent a letter to the owner of each of the NFL's 32 teams about two weeks ago, asking for help deciding which team he should become a fan of. He has received only one response to date.

Panthers owner Jerry Richardson sent Cade a handwritten letter in response, according to KSLA12 in Oklahoma City. "Cade, we would be honored if our Carolina Panthers became your team," the letter stated. "We would make you proud by the classy way we represent you."

The letter also came with a package containing a replica Panthers helmet signed by star linebacker Luke Kuechly. For what it's worth, Pope said, "If this is the only team that responds to me, I'm a Carolina Panthers fan."
How does that apply to your church? I'm glad you asked. Three takeaways:
You don't have to be the biggest or the best. Like the Panthers, there may be other churches in town who do what you do, do it a little better or with a bigger budget, and always seem to come out on top. So you don't have to be the best, but…
You do have to care. I'm sure Jerry Richardson is short on time. But what he's not short on is class and the personal touch. Taking a moment to respond to a potential fan? Small investment on his part, but a huge return for that kid. When is the last time you personally reached out to a first time guest at your church?
People are the mission. Without the 12 year old Cade Pope's of the world, there would be no fan base and no reason for the Panthers to play. Your church doesn't exist for the weekend; it exists for the people of your city.
How about it? Will you be the only church who responds to someone today?
*I guess they're beloved. I have no idea. Jesus loves them whether you do or not.
(Photo credit: Getty Images)