Flashback Friday: Customer Loyalty Programs and the Church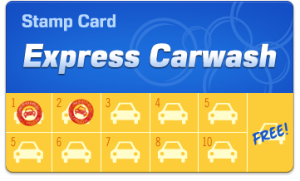 Every Friday I dig into the archives and dust off an old post. If you haven't read it, it's new to you!
I thought this article from Help Scout was pretty interesting. The skinny: researchers examined the effect of customer loyalty programs on…you guessed it…customer loyalty. The test involved handing out two sets of "free carwash" cards. On one set of cards, customers needed to get eight car washes to earn a free one.

On the second set, customers had to earn ten car washes for the freebie, but the first two boxes were already stamped, thereby giving them a head start.

Now if you're awesome at the maths, you know that in both cases, they're buying eight washes to get a free one. And if you're awesome at common sense, you'd think there would be no difference in response.

But you'd be wrong. The people with the "head start" cards had nearly double the rate of loyalty as those who were eking out an entire punch card on their own.

So what hath customer loyalty programs to do with Jerusalem?*
Read the entire original post here.