Corporate Chronology: Moving Your Church Past "Us" vs. "Them"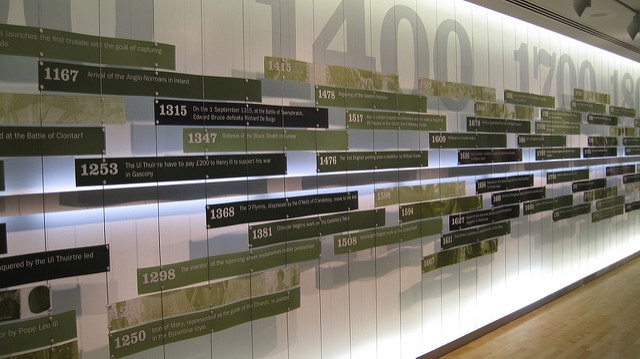 I grew up in a small town. The majority of people who lived there were like me: they'd always lived there…all their life plus nine months. Their daddy was from there, and his daddy, and his daddy before him. When I was in middle school, a new car manufacturing plant opened a few miles up the road, bringing an influx of newcomers to our community. Suddenly there were new people in our neighborhoods, our schools, our stores, and in our churches. And ironically enough, a decade later some of the natives were still referring to some of the transplants as "those new folks." It was as though the newcomers could never truly be home because after all, this was our home, not theirs. They were just sojourners who happened to show up in our native land.
While viewing our corporate chronology as "us" vs. "them" is somewhat natural, it will stifle community and potentially kill fellowship in churches. We tend to mark time by major life events ("In a pre-911 world…" "It was right after I graduated college…") and so we often apply our time filter to other people ("I remember your first Sunday here." "You weren't around before this campus opened, right?"). By virtue of us vs. them and then vs. now,  we can inadvertently set up barriers that prevent guests from becoming family. And that's something we must vigorously fight against.
So how exactly do we fight it? I think there are a few ways:
Create a shared history. When I first met my wife, I wanted to learn everything I could about her. That meant I needed to know where she came from, who her family was, that cousin Matt was actually a second cousin once removed, but still as close as a first cousin, that this uncle cheered for Alabama and that one would disown you if you so much as uttered a "Roll Tide." In other words, I needed to know what made her, her. In the same way, we have to create common points of reference for our church history so that outsiders can become insiders as quickly as possible. Do your newcomers know your history? Do they know the highs and lows of your decades of existence? Do they know what makes their church, their church?
Make introductions. Whether someone is showing up for the first Sunday or they've just completed your six-week membership class, how do you help the rest of the church get to know them? While I believe you should never put a first-timer on the spot, I do think that you should help people build strategic relationships so a big church feels a bit smaller ("You transferred here to work at the hospital? Let me introduce you to Jenn; she's an oncologist there."). If they're taking a further step of connection (serving, getting baptized, joining the church), figure out contextually-appropriate ways to make sure you're introducing them and their story.
Utilize your connectors. In his book The Tipping Point, Malcolm Gladwell describes a Connector as someone who knows lots of people and wants those people to know each other. A seasoned church member who is also a connector is an invaluable gift. I think of my friend Carl, one of our charter members who uses his longevity to leverage relationships. Rarely a weekday goes by that he's not having lunch with someone new to the church. He desires to get to know them so he can help them get to know others. You need to figure out who the Carls are in your church. Who are the the people who serve as a natural bridge between newcomers and natives?
Give new people places of influence. I recognize that scripture gives us counsel regarding new converts in leadership. I'm not talking about ordaining someone as a deacon on their second Sunday or putting a first time guest in charge of the finance team. But when new people serve, their relational capacity skyrockets. We should have easy on-ramps for newcomers to join ministry teams, for new members to serve in areas of lay leadership, and yes, leadership pipelines for new people to influence decisions that will affect those who have been around longer. When seasoned vets see the new kid step up, it changes their perception of the new kid and moves him from them to us.
Keep small groups open. There are a few couples in our group who have been together for years. But historically, our group has tried to remain open to those who are new. Encourage small group leaders to watch for, invite, and encourage new people to be a part of their group. This is one of the fastest ways to gain a shared history. But be careful: small groups can become a microcosm of the church at large and accidentally slide into us vs. them territory. We have to be extremely intentional that our newer people understand the whos and whats and wheres of our particular group's culture so they don't feel like they're on the outside looking in.
Create social spaces. I know of pastors who host "dinners for ten," where different groups come show up once a month to eat and get to know one another. Other churches expand this across the congregation, and people can opt in for the opportunity to build friendships. Whether it's an organized meal, a physical gathering space after a church service, a new members' reception, or mid-sized events designed to facilitate relationships, we have to build in places and times where people can gather in an attempt to break down barriers and build community.
Watch your language. I've talked before about the problem with using the word "visitor" and the times we should talk to our guests. All of these principles boil down to how our communication builds perception. "Visitors" connotes transience…if they're just here for the day, why bother getting to know them? Corporately addressing guests from the stage reminds church members that every Sunday is somebody's first Sunday, and they should be watching for opportunities to meet someone knew.
Nod to the past, but don't embrace it. Finally, I'm not arguing that we do away with the timeline that elapsed before new people arrived. In fact, I firmly believe that the history of our church informs and equips us for the future of the church. At the Summit, we recently celebrated our first fifteen years and by doing so, we honored the "original 300" who faithfully paved the way for what we're now experiencing. But there is a difference between honoring the past and being stuck in the glory days. When we stumble into the latter, we unintentionally set up road blocks for new people to integrate into the life of the church.
As the church of Jesus Christ, our mission is to great to do anything that would keep people on the fringes. We have to move past "us" and strategically plan to get "them" connected to the story of Jesus and the story of his church.
The good folks over at the FTC want me to tell you the following: if you order a resource from a link on this page, I may receive a small affiliate commission from Amazon. If that bugs you, feel free to bypass my link and buy from a vendor of your choice. But still: buy it. I only promote items that have benefitted me and that I believe will benefit you.