Thursday Three For All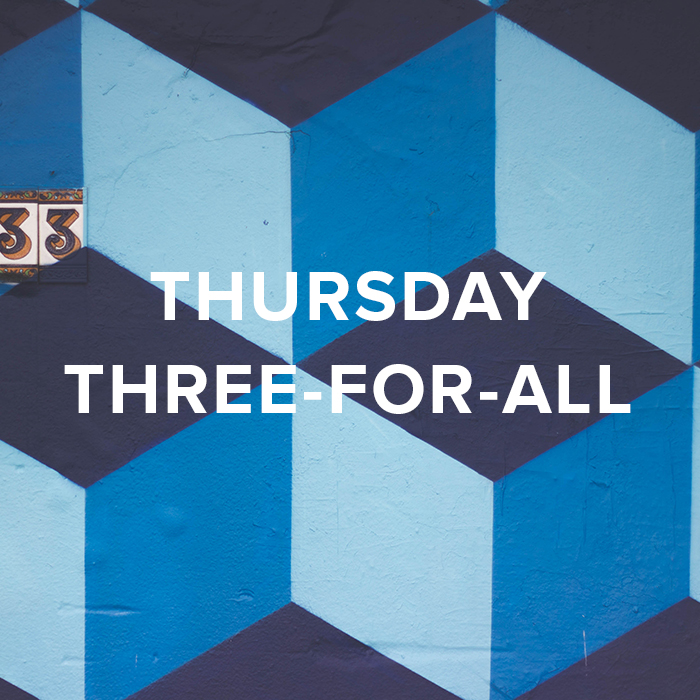 It's Thursday, kiddies: the day when I roll out a few things I've been reading over the past week. Three of 'em, to be exact. Enjoy. (Remember: click on the big bold print to read the entire article.)
(via @davedangelo) I just had this conversation with a friend earlier this week. And I still ask myself some of these questions. But Dave gives us great food for thought on how to be good neighbors on the same mission.
So you just heard the news that a new church or campus is opening up in your town … how do you respond?

We'd be lying if we said our immediate response was always a pure kingdom-minded celebration. My conversations with pastors who experience this same scenario often include sentiments like:

Do they think there aren't enough churches here already?
I feel like they should have called us first.
Are our people going to become their people?

I wish I was making this up. I also wish I had never thought or said these things myself.  Somewhere along the line, if we do not guard our hearts and minds as leaders, we can begin to view churches in our community as competition rather than partners.
(via @lifehacker) I may or may not have a packing checklist that – if printed out – would stand taller than my suitcase. And those who have been blessed to travel with me will tell you that I don't go light. So yes, as vacation season encroaches, I need this.
Most of us tend to overpack when we travel. You might as well toss in those extra shirts, chargers, and camera gadgets because you never know what you might need, right? Of course, you then end up not using half the stuff you bring. If this sounds familiar, consider a "luggage audit" next time you travel.
(via @premiumfunny) Basically, me, except the helper in question is Siri.
photo credit: Jason Mathis