Danny Recommends: Presentation Go Bag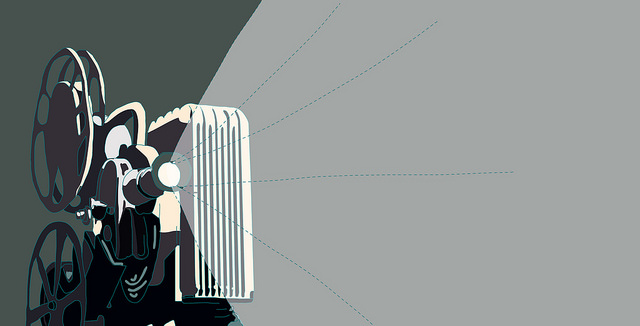 Every so often we dip our toes into a series called Danny Recommends:, posts that tip you off to the stuff that I…you know. The recommendations might be products for use in your ministry, resources that will help you develop leaders around you, or just fun stuff that you need. Want. Whatever. You can also see a full list of recommended books and such over at the Reading List. For other posts in the series, check out the link at the bottom.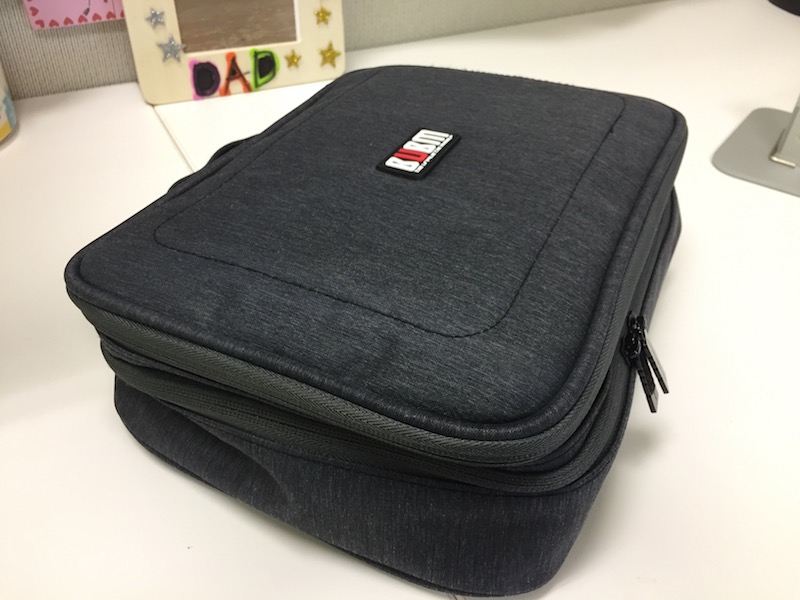 For anyone who has ever used a video projector…ever…you know the drill. You're asked to put together a presentation that you'll deliver at an unfamiliar location. You ask if they want slides (they do). You ask if they know the type of connectors their projectors have (they don't). You pack every cable and adapter you can scrounge up (you forget one). You arrive on site with a full 30 minutes left before you start, but it takes you and your host and a grumpy tech guy that you had to wake up early on a Saturday morning a full 40 minutes to rifle through the church sound booth to find the right adapter. The presentation starts late, the attendees are frustrated, and you're flustered that it all happened on your watch…again.
If it sounds like I've been there, it's because this scenario has played out with me a time or two or 47. So a few months ago I decided to invest once and for all in a "presentation go bag," a small case that holds everything I need to fit just about anything outside of an old-school Southern Baptist overhead projector (moment of silence / respect, please).
Now, a couple of caveats: this is a curated collection designed to work with my MacBook Air's Thunderbolt port, and it was put together with the help of our very smart tech guru here in the office, who said, "If it doesn't fit one of these, you don't need it." So I'm assuming this is going to cover 100% of your particular scenarios.
First, a picture of the two sections of my go bag. Organizational nerds, prepare your salivary glands: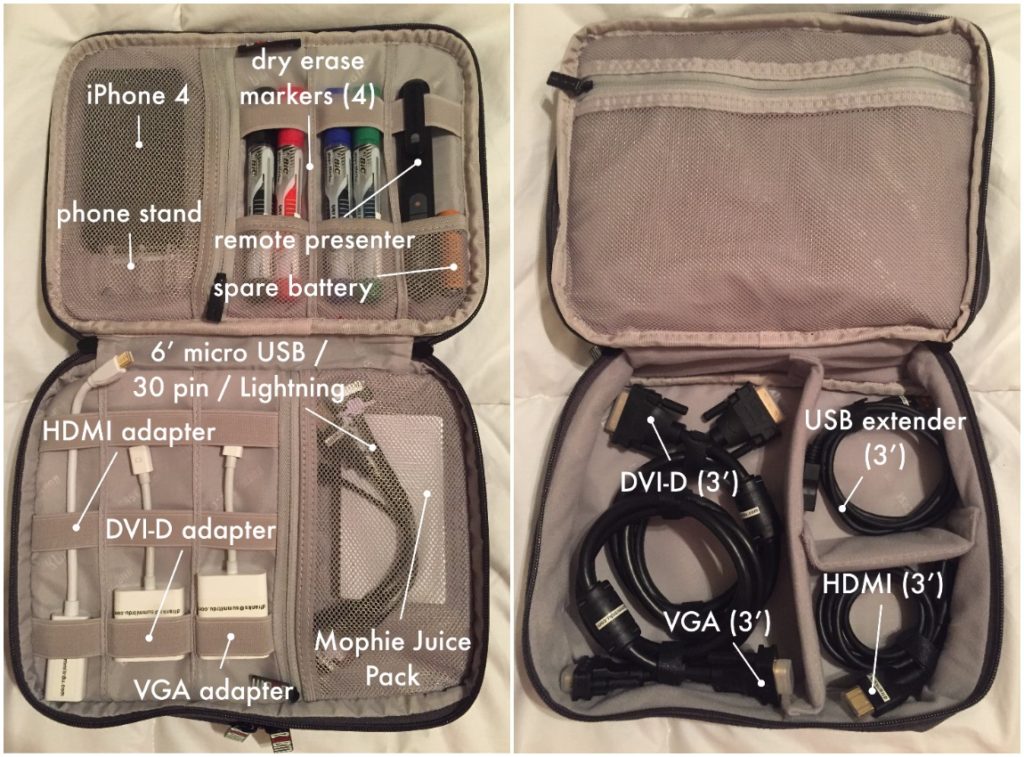 And here are all of the components:
BUBM Electronics Travel Organizer. I experimented and returned a couple of bags before I found this one. For what I pack, it takes care of everything except an optional Bluetooth speaker. The elastic straps, zippered compartments, and adjustable velcro dividers make it pretty well customizable for your needs. It's roughly the size of my dad's toiletry bag that he's had since the 60's, so if you know that size, you know how big it is (translated: packable).
iPhone / stand. I repurposed an old phone that was in the junk drawer. I reset it with just three apps: Clocks (so I can see real time as I teach), pClock (in case my host tells me "you have 40 minutes," I can start the countdown when I start talking), and Amazon Music (if I'm not only the presenter, but the DJ, and need some tunes. Just be sure you either have a wifi connection or you download some of the music onto the phone…and don't forget that Bluetooth speaker).
Dry erase markers. Because there has never been a church whiteboard with working markers in the history of church whiteboards. Ever.
Remote presenter / extra battery. There are way more expensive clickers on the market, but I find that this one – though lacking lots of bells and whistles – does exactly what I need.
Thunderbolt-compatible adapters. Again, according to my tech buddy, "If it doesn't fit one of these, you don't need it."
Cables. To run from your laptop adapter to the LCD projector.
Mophie Powerstation / charging cables. Just in case something somewhere needs a little extra battery charge.
USB extender. I use this to connect my USB receiver from the remote presenter listed above. This has gotten me out of a jam when the only USB port is on the back of a sound booth computer, and the signal won't reach it. A 3′ extender usually puts it in a direct line of sight.
What do you keep in your presentation go bag?
Disclaimer: FTC watchdogs will probably want to know that the companies listed / linked above did not ask for this endorsement, nor did they provide me with free swag in order to do so. I'm just a really satisfied customer who wants to let you know where you can get some great products. So there. Further, if you order a resource from a link on this page, I may receive a small affiliate commission from Amazon. If that bugs you, feel free to bypass my link and buy from a vendor of your choice. But still: buy it. I only promote items that have benefitted me and that I believe will benefit you.