2018 Summer Reading List: Yours.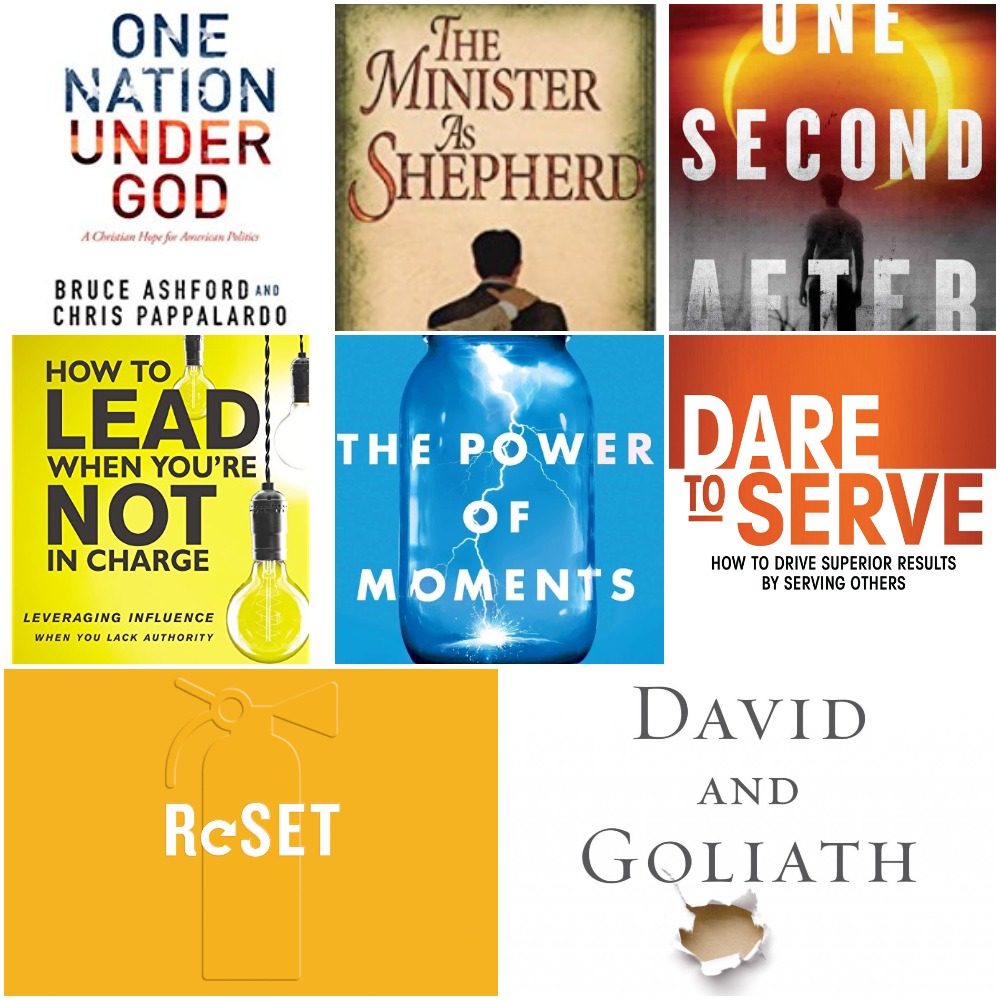 It's summatime, summatime, sum-sum-summatime. And summatime means catch-up-on-your-reading time.
Seriously, what are beaches, back porches, and poolsides for if not to break out your paperback or Kindle and make yourself smarter? (And don't say "for swimming and socializing." That's just crazy talk.)
Here's a curated list of ten of the books I've read since this time last year, books that I would commend to you and tell you to read if you haven't done so already.
Coming tomorrow: the stack I'll be tackling over the next few weeks.
Here's the visual catalog where you can see all the titles (and order on Amazon if that tickles your fancy). But scroll down to see my take on each title:
Dare to Serve: How to Drive Superior Results by Serving Others (Cheryl Bachelder) Bachelder is the former CEO of Popeye's and the former President of KFC. In short, this lady knows chicken. She also knows what it means to be a servant leader. Read her story of how you never get too big to love others well.
David and Goliath: Underdogs, Misfits, and the Art of Battling Giants (Malcolm Gladwell) Gladwell's brain zigs while the rest of ours are figuring out how to zag. Regardless of where you land on his take on the biblical account, he makes a point that we often underestimate speed and agility.
Designed to Lead: The Church and Leadership Development (Eric Geiger and Kevin Peck) The first few pages alone are worth the price of admission. If you've pondered how to raise up leaders and develop a leadership pipeline, this is the book you need in your beach bag. (See my Top Ten Quotes post)
How to Lead When You're Not In Charge: Leveraging Influence When You Lack Authority (Clay Scroggins) Everybody and their mama in church world read this last year, but if you didn't I'm giving you another chance. Clay takes Leading from the Second Chair and puts it on the shelf for all of us. (Top Ten Quotes)
The Minister as Shepherd: The Privileges and Responsibilities of Pastoral Leadership (Charles Jefferson) Jefferson was a pastor in the late 1800s / early 1900s, and his wisdom and counsel still stands the test of time. This was a convicting, yet encouraging read for me.
Not Normal: 7 Quirks of Incredible Volunteers (Sue Miller and Adam Duckworth) The format of the book is a little…quirky…but this was one of the better books I read on volunteering this year. If you can belly up to the bullet points, this is the book for you.
One Nation Under God: A Christian Hope for American Politics (Bruce Ashford and Chris Pappalardo) I let this work from two friends linger way too long on my bookshelf. But since everything coming out of Washington these days is sunny and smells like cupcakes, I figured I'd dust it off. You should too.
One Second After (William Forstchen) (Fiction) An electromagnetic pulse bomb detonates in the U.S., immediately plunging the population into a primitive existence. North Carolina kids will appreciate the fact that it's mostly set in the towns of Black Mountain and Montreat. That alone is worth picking it up.
The Power of Moments: Why Certain Experiences Have Extraordinary Impact (Chip Heath and Dan Heath) Anyone who's spent more than fifteen minutes around me since October knows that I have obnoxiously recommended this book again and again. If you haven't read it, shame on you, and here's your do-over. (Top Ten Quotes)
Reset: Living a Grace-Paced Life in a Burnout Culture (David Murray) Another ouch-fest that was leveled directly at my soul. Murray gives wise, biblical, needed, and timely counsel for those of us who try to take on too much…and feel bad when we can't. (Listen to the audiobook version…his Scottish brogue is delightful.)
Looking for more book ideas? You can see my full recommended reading list here.
The good folks over at the FTC want me to tell you the following: if you order a resource from a link on this page, I may receive a small affiliate commission from Amazon. If that bugs you, feel free to bypass my link and buy from a vendor of your choice. But still: buy it. I only promote items that have benefitted me and that I believe will benefit you.