Top Ten Quotes: How to Win Friends and Influence People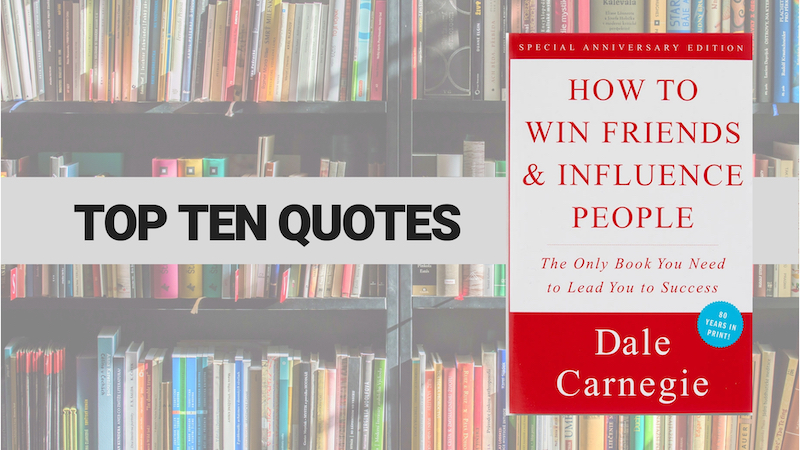 Dale Carnegie's How to Win Friends and Influence People is a behemoth in the publishing world. It's been in print for over eight decades, and is constantly referenced and recommended as a must read for personal growth.
That said, there are a couple of caveats: originally published in 1936, there are parts of Carnegie's work that hasn't aged well. I loved the throwback to a different era of businesses and personal relationships, but there are anecdotes that don't necessarily translate to a 21st century audience.
Secondly, I recognize the conundrum for Christians who try to apply this book wholesale. Much of Carnegie's ploy is to manipulate human behavior – both ours and those we interact with – and that flies in the face of our call to lovingly serve people and point them beyond us and to Jesus. Yes, much of his thesis is how to serve others more effectively, but there are roadblocks to watch out for.
That said, I'm not sorry I spent time with this classic. (Parts of it should be required reading before you're allowed to open a Twitter account.) It was a part of this year's summer reading list, and it was a fairly easy one to tick off the sheet. If you deal with people (and that's all of us), consider giving this one a read.
Here are my top ten favorite quotes:
By criticizing, we do not make lasting changes and often incur resentment.
[on parenting] The habit of finding fault, of reprimanding – this was my reward to you for being a boy. It was not that I did not love you; it was that I expected too much of youth. I was measuring you by the yardstick of my own years. – quoted from Father Forgets, W. Livingston Larned
If you tell me how you get your feelings of importance, I'll tell you what you are. That determines your character.
We are interested in others when they are interested in us. – Publilius Syrus
…if you aspire to be a good conversationalist, be an attentive listener. To be interesting, be interested.
To be interesting, be interested. - Dale Carnegie
Click To Tweet
Talk to people about themselves and they will listen for hours. – Benjamin Disraeli
…there is only one way under high heaven to get the best of an argument – and that is to avoid it.
…when two people yell, there is no communication. – Jan Pearce
There's magic, positive magic, in such phrases as: "I may be wrong. I frequently am. Let's examine the facts."
A person usually has two reasons for doing a thing: one that sounds good and a real one.
---
See all the Top Ten Quotes books on Amazon:
Disclaimer: FTC watchdogs will probably want you to know that the authors represented did not ask for this endorsement, nor did they provide me with free swag in order to do so (unless specifically mentioned otherwise on the particular page). I'm just a really satisfied customer who wants to let you know where you can get some great products. So there. Further, if you order a resource from a link on any "Top Ten Quotes" page, I may receive a small affiliate commission from Amazon. If that bugs you, feel free to bypass my link and buy from a vendor of your choice. But still: buy it. I only promote books that have benefitted me and that I believe will benefit you.