Top Ten Quotes: Excellence Wins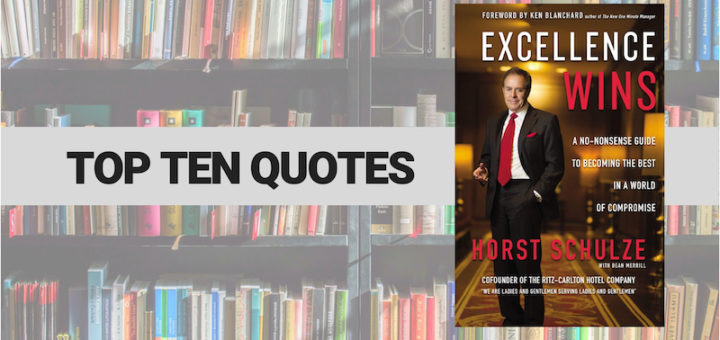 Anybody in the hospitality space knows who Horst Schulze is. As the cofounder and former president of the Ritz-Carlton Hotel Company, Schulze knows a thing or two about treating people with dignity and class. He is a first-class leader, an inspiring figure, and a committed Christ-follower.
I've heard him interviewed on multiple podcasts, so I was excited when he put all of his best stories and leadership counsel in one fantastic book. Excellence Wins: A No-Nonsense Guide to Becoming the Best in a World of Compromise released earlier this summer, and you need it in your hands.
Here are my top ten favorite quotes:
Customer service starts the instant you make contact with an individual.
…if a customer's first four contacts with our hotel go well (for example, the phone reservation clerk, the doorman, the bellman, and the front desk), there will be virtually no complaints thereafter.
Service always implies caring.
Service always implies caring. - Horst Schulze, Excellence Wins
Click To Tweet
…there is nothing beautiful in an "explanation." Beauty lies rather in innovation – figuring out how to overcome the challenges and press on to success, to customer pleasure, to achievement.
Believe it or not, a customer or client frustration can become an opportunity to create new loyalty. What is loyalty? Simply a feeling of trust.
Keep doing whatever it takes to serve the guest. (This is one of 24 Service Standards. You should buy the book just for those seven pages.)
…a onetime orientation speech [is] not enough.
Whenever I do an orientation, I always pray that at least one person will "get it" – that they'll take what I've said and internalize it and then go out and apply it for their future.
I won't settle for less than the vision. No excuses allowed, either from myself or those who work with me.
The old phrase "we've never done it that way before" has no place in a healthy organization. Innovation is often squelched in the name of tradition.
---
See all the Top Ten Quotes books on Amazon:
Disclaimer: FTC watchdogs will probably want you to know that the authors represented did not ask for this endorsement, nor did they provide me with free swag in order to do so (unless specifically mentioned otherwise on the particular page). I'm just a really satisfied customer who wants to let you know where you can get some great products. So there. Further, if you order a resource from a link on any "Top Ten Quotes" page, I may receive a small affiliate commission from Amazon. If that bugs you, feel free to bypass my link and buy from a vendor of your choice. But still: buy it. I only promote books that have benefitted me and that I believe will benefit you.