Aloha Nani Church (Kapolei, Hawaii)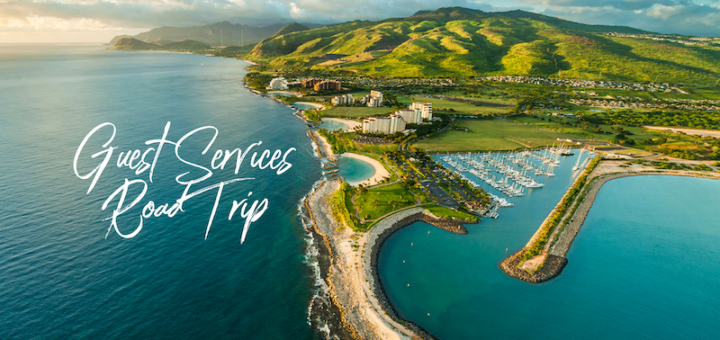 Each month, we revisit a series of posts called Guest Services Road Trip. We'll travel the country from the comforts of our couches, interviewing leaders who are in the trenches of ministry.
It's the dead of winter in the American South, y'all. So I figure there's no better way to spend a cold January day than to wish we were on a tropical island.
Mike Bui is Pastor at Aloha Nani Church in Kapolei, Hawaii, on the island of O'ahu. Aloha Nani started with Pastor Mike and 15 other adults in October 2014. As a church made up of many members who serve in the military or local families who move away for a cheaper cost of living, they are in a constant state of transition. Aloha Nani has an average weekly attendance of 130.
Connect with Mike on Twitter or say aloha via email.
What is the top book you've read on the topic of guest services and/or volunteer culture?
Fusion (Nelson Searcy)
What does your training process look like for the volunteers on your Greeters Team?
Every quarter we do a walk through with our entire greeters team of what we want every guest's experience to be like. We start from the time the guest enters the parking lot until the guest leaves the parking lot. We show how every volunteer's role plays a part in helping every guest experience feel first class.
How is your Greeters Team structured? Do you ever release volunteers to lead in other ministries?
We are always encouraging our present volunteers to recruit their friends in church to volunteer for the Greeters Team. For example, this past summer we said goodbye to 10 families within two months. Some of those families were a part of the Greeters Team, which left us needing more people. So we challenged our volunteers to recruit their friends. At the end of the summer, we were able to fill all of those vacant positions.
What is one of your best practices / ministry hacks that you're especially happy with?
I call this the "Home Depot Experience." I am mechanically challenged so whenever I go to Home Depot I find myself frustrated, having no idea how to find anything. When I ask for help I usually get someone telling me where to go, which usually leads to more frustration when I still can't find what I'm looking for. On one particular visit, I asked for help and the person actually walked me to each item I needed. I walked away blown away at the level of customer service. When a guest walks up to our church campus, they will see a sign outside that says, "First Time? Start Here." They will be greeted by one of our volunteers and personally escorted inside to wherever they would like to go whether it be to the kids check-in area, refreshment table, or the auditorium.
What is a challenge you're currently facing on your Greeters Team?
Every year, we say goodbye to over 30% of our church family so we are constantly having to plug in new volunteers to fill volunteer positions.
What has been one of the biggest mistakes you've made in leading your team and/or implementing a guest services culture?
Assuming people will automatically know what is expected of them. I used to think as long as they could smile and say "Hi" they would make a good volunteer for the Greeters Team.
Disclaimer: FTC watchdogs want me to tell you that if you order a resource from a link on this page, I may receive a small affiliate commission from Amazon. If that bugs you, feel free to bypass my link and buy from a vendor of your choice. But still: buy it. I only promote items that have benefitted me and that I believe will benefit you.