2020 Summer Reading List: Mine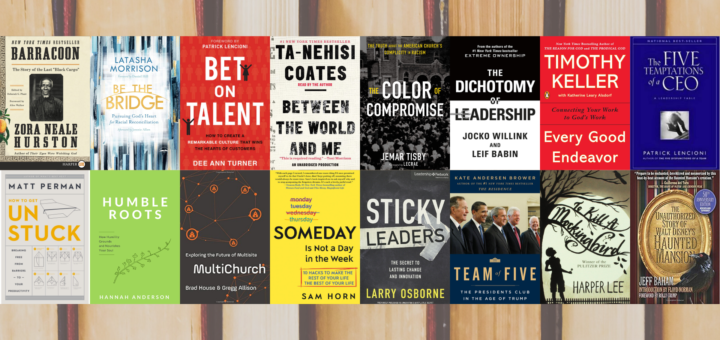 Earlier this week I pitched ten books that I think you should read this summer. But earlier still, I started polling friends on the socials to figure out what you're reading that I should add to my list.
I read a lot all year long, but summertime brings more discipline to my curation. That's due in part to my annual sharing of my summer list, but also because asking trusted friends who I should read usually means I get to break out of familiar genres and authors.
Here are the 16 I hope to tackle between now and Labor Day:
Barracoon: The Story of the Last "Black Cargo" (Zora Neale Hurston)
Be the Bridge: Pursuing God's Heart for Reconciliation (Latasha Morrison)
Bet on Talent: How to Create a Remarkable Culture That Wins the Hearts of Customers (Dee Ann Turner)
Between the World and Me (Ta-Nehisi Coates)
The Color of Compromise: The Truth About the American Church's Complicity in Racism (Jemar Tisby)
The Dichotomy of Leadership: Balancing the Challenges of Extreme Ownership to Lead and Win (Jocko Willink and Leif Babin)
Every Good Endeavor: Connecting Your Work to God's Work (Timothy Keller)
The Five Temptations of a CEO (Patrick Lencioni)
How to Get Unstuck: Breaking Free from Barriers to Your Productivity (Matt Perman)
Humble Roots: How Humility Grounds and Nourishes Your Soul (Hannah Anderson)
Multichurch: Exploring the Future of Multisite (Brad House)
Someday is Not a Day in the Week: 10 Hacks to Make the Rest of Your Life the Best of Your Life (Sam Horn)
Sticky Leaders: The Secret to Lasting Change and Innovation (Larry Osborne)
Team of Five: The President's Club in the Age of Trump (Kate Anderson Brower) A quick note on this one: The President's Club is one of my all-time favorite reads, covering the exclusive fraternity from the Truman administration to the beginning of Obama's time in office. While Brower was not an author on that book, I respect her work and hope she'll pick up where Gibbs and Duffy left off.
To Kill a Mockingbird (Harper Lee) That's right: somehow I escaped high school without ever reading this. Full disclosure, I've already downloaded the audiobook, and having Sissy Spacek read it to me is…whoa.
The Unauthorized Story of Walt Disney's Haunted Mansion (Jeff Baham) Welcome, foolish mortals, to the end of my list.
What do you have on to your list for the summer? I'd love to know about it. Comment below.
---
The good folks over at the FTC want me to tell you the following: if you order a resource from a link on this page, I may receive a small affiliate commission from Amazon. If that bugs you, feel free to bypass my link and buy from a vendor of your choice. But still: buy it. I only promote items that have benefitted me and that I believe will benefit you.