Graduation(ish) Day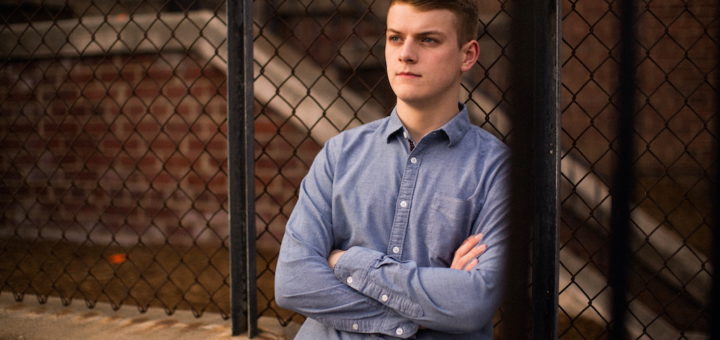 Tomorrow, our third-born will leave high school.
It's the continuation of a strange lifelong journey that began in the shadow of 9/11. Like everyone in his generation, Jase doesn't remember a world without color-coded terror threats or Big Brother-style security protocols. He doesn't remember a time without a 24 hour news cycle and the constant anxiety of a crisis in the middle east arriving seconds later via a notification in his pocket.
And so it's hauntingly poetic that his senior year was disrupted by a global pandemic.
On the morning of Friday, March 13, Jase walked out of the house and said – with a smirk – "Well, I'm off to the last day of my senior year." We laughed, because despite the news headlines and looming threats of COVID-19, we knew there was no way that was true.
Except that it was.
And so tomorrow, he'll leave high school. But first he has to return to the school for only the second time in three months. The first trip was to pick up a graduation gown that he'll wear not walking across a stage, but sitting in a car. Not surrounded by classmates, but shoved into the front seat while parents and siblings try to angle for a decent picture from the back of the vehicle. Not with a transfer of a diploma and a shake of a hand, but with a gloved handoff from a masked staffer trying desperately to get as close to six feet away as possible.
Instead of turning the tassel, he'll turn off the livestream of the virtual valedictory speech.
Instead of a celebratory afterparty like his brothers before him with lots of hugs and handshakes, he'll gather with an incredibly small-and-socially-distanced number of family and friends and fist bumps.
Instead of waking up on Saturday with the feeling of being a free man who has graduated, he'll wake up just like he's done since mid-March: off to work and off to this brand new reality that we speak so much of.
Jase, for his part, has taken all of this in his normal, quiet stride. Graduating seniors were given the choice: take the grade they had on March 13, or keep trying if they were dissatisfied. (Guess who was really, really satisfied?) Prom never held a lot of allure for him, so no loss there. Awards Day? Meh. Senior Skip Day? My goodness, they went for broke on this one. Where my generation would have likely felt robbed, this one seems to have taken it in a relative amount of ease.
And so for more than a third of his senior year, he's kept himself busy by rebuilding our back steps and creating a zip line platform for his little sister (those woodworking skills must have skipped over my lap in the gene pool). He's squeezed in some time for his main squeeze, Carleigh (because the C.D.C. can't put restrictions on L.O.V.E). He's pressure washed the driveway and masterminded a plan for a fire pit. He's worked some crazy long days at the Chick-fil-A where he's been since he was 15, navigating a completely new business plan and helping his beloved drive through team break new records. He even scored a scholarship along the way, complete with a driveway drop off and sanitized balloons.
Merriem and I have had our moments of mourning that this normal rite of passage is anything but. We know that tomorrow marks the end of an era: of first-grade romances and elementary school plays, of Target sack shoe coverings and lunchroom birthday celebrations, of childhood discoveries about Santa and misplaced theories about the Skywalker saga.
But the mourning is short, and it's eclipsed by gratitude: gratitude for the man that he's become. Gratitude for the servant's heart he's developed. Gratitude for the passionate pursuit of Jesus that's taken him to New York and Portugal and even Lumberton, North Carolina. And gratitude that the normal sources of identity: academics, senior year milestones, and the like are being stripped away, allowing him to get a glimpse of the things that will last.
Tomorrow, our third-born leaves high school. Happy Graduation(ish) Day, Jase. I love you.
---
photo credit: Austin Franks