Top Ten Quotes: Be the Bridge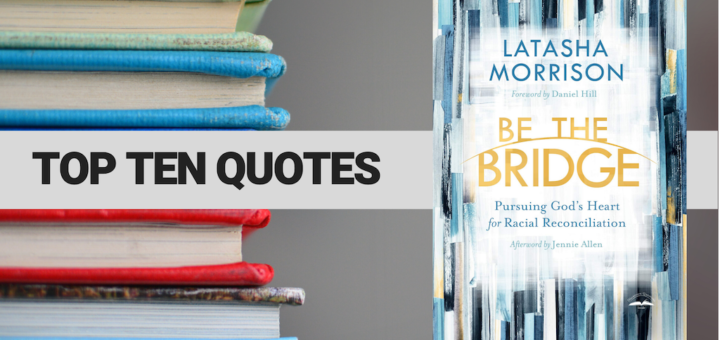 A few weeks ago I shared my summer reading list for 2020. As I was assembling that list earlier this year, I reached out to trusted friends to ask what and who should be on that list. In God's good providence, almost 1/3 of titles had to do with matters of racial reconciliation.
I've read or listened to all of those particular titles by this point in the summer (I've been on a bit of a reading tear), and wanted to share a few quotes from one of the most impactful books I've read so far, Be the Bridge: Pursuing God's Heart for Racial Reconciliation. Author Latasha Morrison leads the reader through a painful but necessary journey of listening, understanding, and repenting of overt and covert attitudes we hold about race.
Here are my top ten quotes:
[T]he work of racial reconciliation requires a certain posture. If you're White, if you come from the majority culture, you'll need to bend low in a posture of humility.
…each ethnicity reflects a unique aspect of God's image. No one tribe or group of people can adequately display the fullness of God. The truth is that it takes every tribe, tongue, and nation to reflect the image of God in his fullness.
In the love of the family of God, we must become color brave, color caring, color honoring, and not color blind. We have to recognize the image of God in one another. We have to love despite, and even because of, our differences.
Forgiveness and healing cannot begin until we become aware of the historical roots of the problem and acknowledge the harm caused.
Awareness of the truth is useless without acknowledgment of our complicity or its effects on us.
We can't change the subject because issues of racism make us feel bad. Instead, we have to have the hard conversations so we can move to a place of deep lament.
What is the purpose of lament? It allows us to connect with and grieve the reality of our sin and suffering. It draws us to repentant connection with God in that suffering. Lament also serves as an effort to change God's mind, to ask him to turn things around in our favor. Lament seeks God as comforter, healer, restorer, and redeemer. Somehow the act of lament reconnects us with God and leads us to hope and redemption.
…all forms of racism and bigotry—using racist slang, laughing at racist jokes, entertaining the privileges of color—must be confessed before we can move together toward lasting reconciliation.
Reconciliation requires truth telling and empathy and tears. It requires changed perspectives and changing directions (also known as repentance). But ultimately, that change of direction requires righting the wrongs perpetrated.
Bridges are built not with passivity or avoidance but with the deep, hard work of seeking to understand.
---
See all the Top Ten Quotes books on Amazon:
Disclaimer: FTC watchdogs will probably want you to know that the authors represented did not ask for this endorsement, nor did they provide me with free swag in order to do so (unless specifically mentioned otherwise on the particular page). I'm just a really satisfied customer who wants to let you know where you can get some great products. So there. Further, if you order a resource from a link on any "Top Ten Quotes" page, I may receive a small affiliate commission from Amazon. If that bugs you, feel free to bypass my link and buy from a vendor of your choice. But still: buy it. I only promote books that have benefitted me and that I believe will benefit you.