Top Ten Quotes: The Ruthless Elimination of Hurry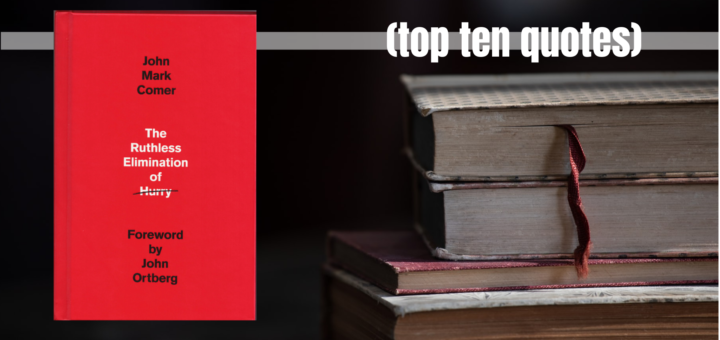 Out of all the books I read last year, few were as convicting and painful and needed and immediately applicable as John Mark Comer's The Ruthless Elimination of Hurry: How to Stay Emotionally Healthy and Spiritually Alive in the Chaos of the Modern World. I was late to the game in reading this, and as several trusted friends moved from "You need to read this!" to "YOU. NEED. TO. READ. THIS.", I realized that they might be trying to stage an intervention via book recommendation.
I dare not say that I've implemented everything I need to from this book, but steps have been taken, and some hurry has been eliminated. I can't recommend a book more highly. If you haven't read it, order it right now. Dare I say…hurry.
---
Here are my top ten favorite quotes:
…there is a healthy kind of busyness where your life is full with things that matter, not wasted on empty leisure or trivial pursuits. By that definition Jesus himself was busy. The problem isn't when you have a lot to do; it's when you have too much to do and the only way to keep the quota up is to hurry..
Hurry and love are incompatible.
[H]urry is a form of violence on the soul.
[W]hat you give your attention to is the person you become.
…Jesus doesn't offer us an escape. He offers us something far better: "equipment." He offers his apprentices a whole new way to bear the weight of our humanity: with ease. At his side.
Solitude is when you set aside time to feed and water and nourish your soul. To let it grow into health and maturity. Isolation is what you crave when you neglect the former.
One of the surprising things I learned when I began to practice Sabbath is that to really enjoy the seventh day, you have to slow down the other six days.
[on Sabbath] …something happens about halfway through the day, something hard to put language to. It's like my soul catches up to my body.
Parent your phone: put it to bed before you and make it sleep in.
…if there's a formula for a happy life, it's quite simple – inhabit the moment.
---
---
Disclaimer: FTC watchdogs will probably want you to know that the authors represented did not ask for this endorsement, nor did they provide me with free swag in order to do so (unless specifically mentioned otherwise). I'm just a really satisfied customer who wants to let you know where you can get some great products. So there. Further, if you order a resource from a link on any "Top Ten Quotes" page, I may receive a small affiliate commission from Amazon. If that bugs you, feel free to bypass my link and buy from a vendor of your choice. But still: buy it. I only promote books that have benefitted me and that I believe will benefit you.