2021 Summer Reading List: Mine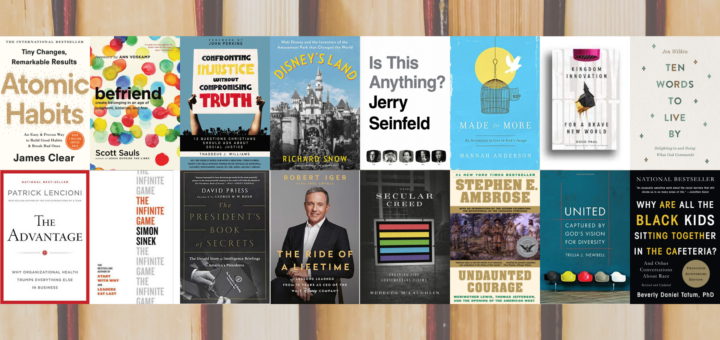 Earlier this week I pitched ten books that I think you should read this summer. But I don't just want to tell you what to read. I want to share what I hope to tackle between now and Labor Day:
Atomic Habits: Tiny Changes, Remarkable Results (James Clear)
Befriend: Create Belonging in an Age of Judgment, Isolation, and Fear (Scott Sauls)
Confronting Injustice Without Compromising Truth: 12 Questions Christians Should Ask About Social Justice (Thaddeus Williams)
Disney's Land: Walt Disney and the Invention of the Amusement Park that Changed the World (Richard Snow)
Is This Anything? (Jerry Seinfeld)
Made for More: An Invitation to Live in God's Image (Hannah Anderson)
Ready or Not: Kingdom Innovation for a Brave New World (Doug Paul)
Ten Words to Live By: Delighting in and Doing What God Commands (Jen Wilkin)
The Advantage: Why Organizational Health Trumps Everything Else in Business (Patrick Lencioni)
The Infinite Game (Simon Sinek)
The President's Book of Secrets: The Untold Story of Intelligence Briefings to America's Presidents (David Priess)
The Ride of a Lifetime: Lessons Learned from 15 Years as CEO of the Walt Disney Company (Bob Iger)
The Secular Creed: Engaging Five Contemporary Claims (Rebecca McLaughlin)
Undaunted Courage: Meriwether Lewis, Thomas Jefferson, and the Opening of the American West (Stephen Ambrose)
United: Captured by God's Vision for Diversity (Trillia Newbell)
Why Are All the Black Kids Sitting Together in the Cafeteria?: And Other Conversations About Race (Beverly Tatum)
What do you have on to your list for the summer? I'd love to know about it. Comment below.
---
The good folks over at the FTC want me to tell you the following: if you order a resource from a link on this page, I may receive a small affiliate commission from Amazon. If that bugs you, feel free to bypass my link and buy from a vendor of your choice. But still: buy it. I only promote items that have benefitted me and that I believe will benefit you.