Top Ten Quotes: Befriend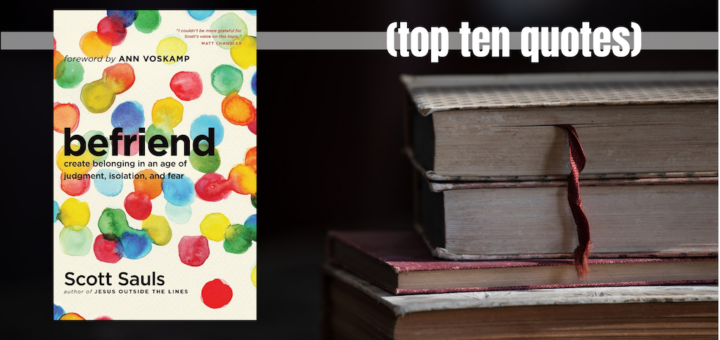 Scott Sauls is a gift to the Church. His books get to the heart of the Christian life, tenderly balance varying worldviews, and apply the gospel into the nooks and crannies of those things that often befuddle us.
In Befriend: Create Belonging in an Age of Judgement, Isolation, and Fear, Scott tackles the rampant division in our society and the increasing isolation that we're prone to, and challenges us to … well … to be a friend.
In 21 chapters, he encourages the believer to befriend dysfunctional family members, the rich and powerful, strangers and refugees, those with disabilities, those from the "other" political party, and more. It's a challenging, encouraging read, and I commend it to you.
---
Here are my top ten favorite quotes:
…real friendship happens when we move toward the people we are most tempted to avoid. These are the people who are best equipped to challenge our perspectives, push our buttons, and require us to put on love.
Maybe before we can love like Jesus, we need to learn what it means to be with him.
We shame and respond unlovingly to others because deep down, we feel that our own need for love and belonging are not being met. We shame because we feel ashamed. We hurt because we are hurting.
If we knew everything that God knows and if we saw everything that God sees about what is truly the best way for someone else's life to unfold, we would be less prone to judge and control.
…we are all part of the human community and are better served by kindness across differences than we are by hatred and distrust because of differences.
As we fight about life in utero, let's not forget the person standing in front of us.
If I feel more of a kindred solidarity with those who share my politics but not my faith than I feel with those who share my faith but not my politics, what does it say about me? It suggests that I have sold out to Rome.
Panic and grasping for power is the way of the world.
…love is complete, love is at its most healthy place, when the duties of love are driven by the delights of love.
Would you identify as a "task" person or a "people" person? How does this impact how you relate to God and others?
---
---
Disclaimer: FTC watchdogs will probably want you to know that the authors represented did not ask for this endorsement, nor did they provide me with free swag in order to do so (unless specifically mentioned otherwise). I'm just a really satisfied customer who wants to let you know where you can get some great products. So there. Further, if you order a resource from a link on any "Top Ten Quotes" page, I may receive a small affiliate commission from Amazon. If that bugs you, feel free to bypass my link and buy from a vendor of your choice. But still: buy it. I only promote books that have benefitted me and that I believe will benefit you.