Top Ten Quotes: A Gentle Answer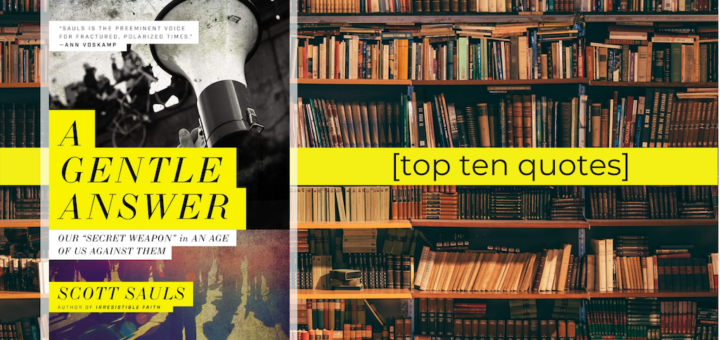 I love Pastor Scott Sauls' take on … well, most things. But none so much as his conviction that Christians can and should be kind, even as we stand for the truth of the gospel.
He laid this out in Jesus Outside the Lines, continued the theme in Befriend, and brings it home in A Gentle Answer: Our "Secret Weapon" in an Age of Us Against Them. In our current age of contention, I found it to be a refreshing (if not convicting) read.
---
Here are my top ten favorite quotes:
Outrage has become something we can't get away from, partly because we don't seem to want to get away from it.
Because Jesus has covered all of our offenses, we can be among the least offensive and least offended people in the world.
Jesus and Christianity do not discriminate between good people and bad people. Instead, Jesus and Christianity discriminate between humble people and proud people.
When "love your neighbor" takes a back seat to American partisanship, when the protection and advancement of our own rights and privileges take precedence over the needs of the least of these, spiritually and socially sensitive people can find it difficult to get on board with versions of Christianity that look, smell, and talk more like Uncle Sam than like Jesus Christ.
…when you seek to become God's person wholeheartedly, you also become your own person instead of merely echoing one side or another.
It is because we have been treated with such kindness, such grace, such gentleness that we ought to be the most difficult people in the world to offend.
To sin against the law of God is to sin against the love of God. Therefore, every time we sin against God, we also sin against ourselves.
…the seed of Judas resides in us all.
Jesus calls his followers to something better and more life-giving than oppositional postures.
The world does not thirst for a religious imitation of its often-outraged self.
---
---
Disclaimer: FTC watchdogs will probably want you to know that the authors represented did not ask for this endorsement, nor did they provide me with free swag in order to do so (unless specifically mentioned otherwise). I'm just a really satisfied customer who wants to let you know where you can get some great products. So there. Further, if you order a resource from a link on any "Top Ten Quotes" page, I may receive a small affiliate commission from Amazon. If that bugs you, feel free to bypass my link and buy from a vendor of your choice. But still: buy it. I only promote books that have benefitted me and that I believe will benefit you.