Top Ten Quotes: The Experience Maker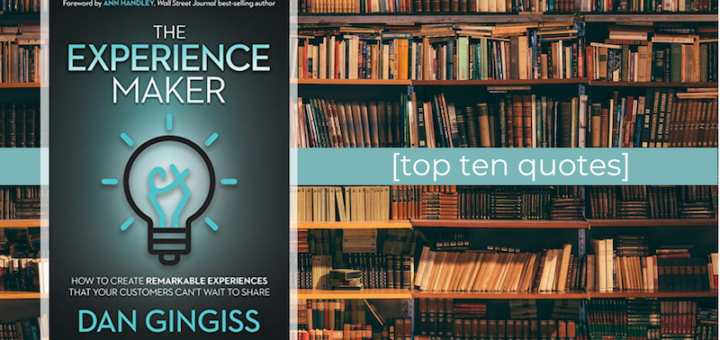 I've long been a fan of Dan Gingiss, co-host of the Experience This! podcast with Joey Coleman. The podcast is built around the customer service experience, and if you've been around this blog space for a while, you know the drill: those of us in the church world can learn quite a bit by observing how businesses engage with their customers…and how they shouldn't.
That's why I was excited to get my hands on Dan's latest book, The Experience Maker: How to Create Remarkable Experiences That Your Customers Can't Wait to Share. If the word "customer" bugs you, sub in "guest." And while not everything is 100% transferable to church world, there's plenty we can pick up.
---
Here are my top ten favorite quotes:
The best part about customer experience is that it's delivered by human beings, and the people at your company are unique.
No one shares a so-so experience…they share at the extremes—positive and negative.
…the cost of being just a little bit friendlier was exactly nothing.
…there's no such thing as an "offline" experience anymore…everything we do, everywhere we go, we can pull out our phones, take a picture or video, and turn an offline experience into an online experience.
Extraordinary really just means "better than ordinary." Your experience is probably ordinary right now, which is why people aren't sharing things about [their experience].
[on responding to negative experiences] When you do the right thing for the customer, they often end up happier than if they hadn't had a problem in the first place.
Complaints are often more valuable than compliments because they tell a company how it is missing the mark in terms of customer experience.
Be sure to differentiate between VOC ("voice of the customer") and what I call AOC ("actions of the customer"). This is critical because what customers say (VOC) and what customers do (AOC) are not always the same.
…the customer doesn't care about your company's organizational structure. The fact that one team is responsible for acquisition, another is responsible for service, and a third for the digital experience is not the customer's problem. To them, it's all a single experience.
"Often providing a better brand experience doesn't take a lot of money, tech, or people. It takes common sense." (Dipanjan Chatterjee)
---
---
Disclaimer: FTC watchdogs will probably want you to know that the authors represented did not ask for this endorsement, nor did they provide me with free swag in order to do so (unless specifically mentioned otherwise). I'm just a really satisfied customer who wants to let you know where you can get some great products. So there. Further, if you order a resource from a link on any "Top Ten Quotes" page, I may receive a small affiliate commission from Amazon. If that bugs you, feel free to bypass my link and buy from a vendor of your choice. But still: buy it. I only promote books that have benefitted me and that I believe will benefit you.