Putting a Dent in Advent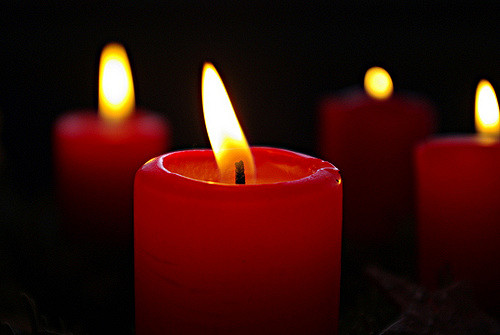 I'll start this post with a couple of confessions:
Confession #1: I stink at family devotions. Like, stink at 'em. Not "we could get better. Last year we only memorized Leviticus, this year we're going for the whole Pentateuch." Not, "man, I only read the Bible to my family 363 out of 365 days in 2012. I am a miserable human specimen."
Nope, I really stink at 'em. And while we've tried family devotions plenty of times in the past, and while I occasionally pray with my family for specific needs, and while I will sometimes point them to specific scriptures in specific situations, it's one of the many things that's not a part of the warp and woof of my spiritual disciplines (although saying things like "warp and woof"? I got that one nailed.).
Confession #2: I don't really know what Advent is. There. I said it. I grew up in church, would consider myself a conservative evangelical, and yet I am totally in the dark on Advent. Is it a calendar? Is there a secret handshake? I can remember ONE Christmas in our church, we lit an Advent candle each Sunday leading up to Christmas. So maybe Advent is an invention of the candle industry? But were they special candles? Scented? Did we get 'em on a 2 for $22 Black Friday special at Bath & Body Works?
These are the things that keep me up at night.
So you'll understand my apprehension when I decided to go for broke this year and download an Advent guide from Verge Network. I looked at several, but none seemed to have the magical ingredients that would appeal to four kids from 17 years old down to three. Verge, however, had Advent ornaments to cut and color, so I figured if nothing else, giving the three year old some scissors would be somewhat entertaining.
Last night was Night #1, and perhaps Night #Last, for reasons you'll see in a moment. Verge had us focusing first on the fall of mankind (nothing says "Merry Christmas!" like the doctrine of original sin), so the plan was to read a portion from Genesis 3, then a reading from The Jesus Storybook Bible. You need to understand that Haven and I read the JSB together frequently. She loves it. It holds her attention, and mine for that matter. The pictures are colorful enough and the stories are short enough that she can maintain focus in almost any circumstance.
Unless that circumstance is Night #1 of Advent, and we have the audacity to involve the rest of the family.
To say that Haven was "unengaged" is the understatement of the century. She twirled. She danced. She moved from chair to chair and person to person. When one of us would try the "grab and hold" technique, she'd immediately launch countermeasures and initiate the "oily octopus" technique, slide onto the floor, and slink across the room. She made unhelpful comments, manufactured unhelpful noises, threw unhelpful jabs at her 11 year old brother…
…in other words, she illustrated the fall of mankind perfectly.
She paid attention to nothing and no one, until the moment that I read Genesis 3:10: "And he said, 'I heard the sound of you in the garden, and I was afraid, because I was naked, and I hid myself.'"
That, she heard.
And then the giggles started. And the eyes got wide as saucers. And the comment came: "DADDY WAS NAKED AND HID HIMSELF!"
Bye-bye, meaningful Advent moment. So long, sober reflection on the introduction of sin to the world. Adios, family devotions. The rest of the crew fell apart. Peals of laughter erupted. And the three year old princess couldn't be any prouder of herself.
Me? I pouted. Fumed. Did everything I could just to get through it and get it over with and get her to bed.
So much for being spiritual. The man who was reading about sin became, once again, the sinner. Instead of reflecting the second Adam, I looked shockingly like the first one. The dad who was supposed to lead with grace wanted to respond by tossing the [insert Yosemite Sam style cuss words here] Advent guide right into the Christmas tree. One night in, and I was out. Advent – for me – was a bust.
Who needs Advent, anyway? Why do we carve out so much time focusing on the coming of Jesus?
Actually, let me try that again:
Who needs Advent, anyway? (I do.)
Why do we carve out so much time focusing on the coming of Jesus? (Because we so desperately need it.)
Nights like last night pull back the curtain on my need to slow down and focus. To hear Jesus. To see Jesus. To make much of Jesus. My attempts at family devotions or being a good husband or being a gracious dad can only go so far without the grace of Jesus. And that's exactly the point of Advent: to pull away from decorations and wrapping paper and holiday gatherings and early-morning sales and just see Jesus. To recalibrate our hearts to him. To point our families to him. To renew our focus on him.

So tonight, though maybe a bit reluctantly, I'll give it another whirl. Tonight, I'll pull the Bible back out and gather the family back around and try to maintain my composure long enough to point them past their grouchy earthly father and towards their gracious heavenly one.
Tonight, I'll try once again to see Jesus.