Thursday Three For All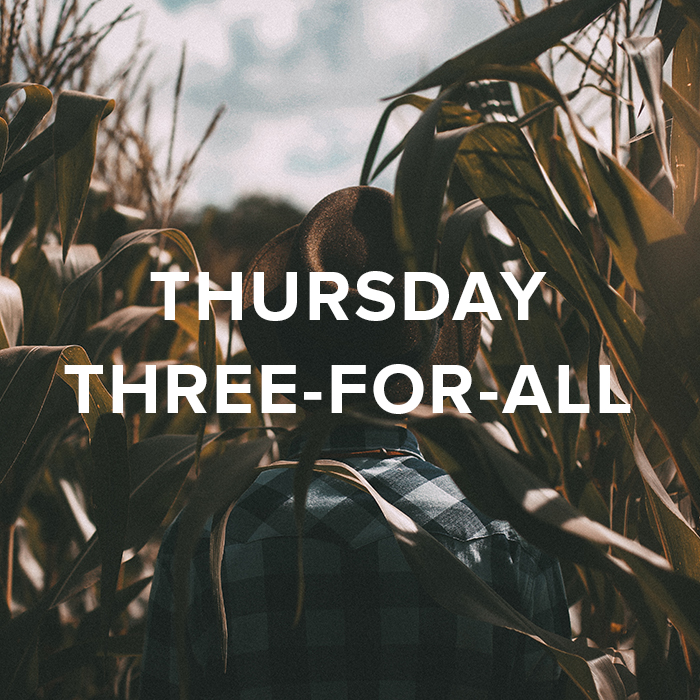 It's Thursday, kiddies: the day when I roll out a few things I've been reading over the past week. Three of 'em, to be exact. Enjoy. (Remember: click on the big bold print to read the entire article.)
(via @jdgreear) You may have heard we're in the middle of an election season. My pastor gives balanced, sage wisdom here. (Bonus: watch our recent Gospel and Politics Forum for more goodies.)
I am heartbroken for our country right now. Deeply disturbed. It's been said that in a democracy a people's leaders reflect the state of the people. What does our current options for leadership say about "we the people"?

We have forgotten God, neglected his Word, and taken his blessings for granted. The book of Proverbs tells us, "Righteousness exalts a nation, but sin is a reproach to any people" (Proverbs 14:34, emphasis mine). That "any" includes us. The "reproach" of these candidates sits upon our shoulders. More than anything, America needs Jesus.
(via @inc) As the dad / husband of four Chick-fil-A employees (you read that right, 2/3 of the Franks fam are part of the Christian Chicken empire), I can 100% attest to the fact that CFA isn't just about building business, it's about building people.
But even with a small number of stores, the chicken chain regularly outperforms competitors. Hayley Peterson of Business Insider reported that Chick-fil-A "generates more annual revenue than dozens of other chains that have more than twice as many US locations, including KFC, Pizza Hut, Domino's, and Arby's." In fact, a single Chick-fil-A restaurant produces about four times as much revenue as a single KFC, on average.

And when comparing these numbers, keep in mind that all Chick-fil-A restaurants are closed on Sundays, due to a national corporate policy–whereas most of their competitors are open seven days a week.
(via @gregorybrothers, HT @laughingsquid) This is pretty genius.
photo credit: Jason Mathis