We Weren't Created To Be Chronically Lazy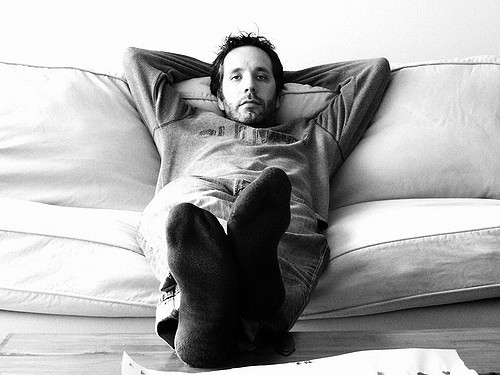 Over the last few days, North Carolina and surrounding states have been in the middle of Snowpocalypse 2017. If you're a reader from parts farther north, you should know that North Carolinians don't handle snow all that well (Exhibit A: this scene from three years back – taken just a few miles from our church offices – includes the car of at least one staff member).
So NC snow equals impassable roads, which in this case has equaled our family being homebound for a long weekend. No church services. No school. No getting out of the neighborhood. No (gasp) Chick-fil-A.
And snow days are always fun…for a while. We slept late. I got a huge jump start on my 2017 reading list. I tried to teach my six year old how to play Phase 10 (a horrible idea, in retrospect). For days, we puttered around. Attempted to sled. Did some laundry. Kind of shoveled the driveway. Watched some Netflix. Became covered in the fine orange dust of Cheez-Its. Looked at pictures of snow on Facebook, because apparently we don't have windows to see our own snow.
Like I said, snow days are always fun…for a while. But then boredom sets in. Delirium comes. Cabin fever strikes. Siblings whine and couples snip and so help me if I have to spend one more hour in this house…
Snow days are always fun…until the fun comes to an end.
It occurred to me halfway through my third box of Cheez-Its that I wasn't designed for this. Sabbath rest? Absolutely. Intentional downtime with family? Yes. Doing nothing for the glory of God? Sometimes it's a great idea.
But when rest bleeds into routine and becomes the rule – not the rhythm – it's a bad thing. I'm not wired to sit in a chair for days on end and watch TV. Laziness doesn't inspire me to greatness. I can't serve others out of my boredom.
Here's the point (sorry I'm not thinking succinctly, because Cheez-Its): it's the same way in church life. Maybe you're pretty comfortable in your pew-shaped La-Z-Boy. Perhaps you're killing time by watching other people serve all around you. But if you're a believer…you weren't designed for this. Your soul is hard-wired to get off the sidelines, discover your gifting, and serve others. It's something you do for others, yes. But in serving others, you will find yourself looking at life in an entirely new way.
If you're a part of the Summit Church, you can take a step by visiting our /serve page. There you'll find several no-obligation next steps about how to get plugged in.
If you're at another church, talk to a staff member or ministry team leader. Take a chance. Take a step. Make a change. Chronic laziness has no place in our physical bodies, and neither does it belong in our spiritual bodies.