Thursday Three For All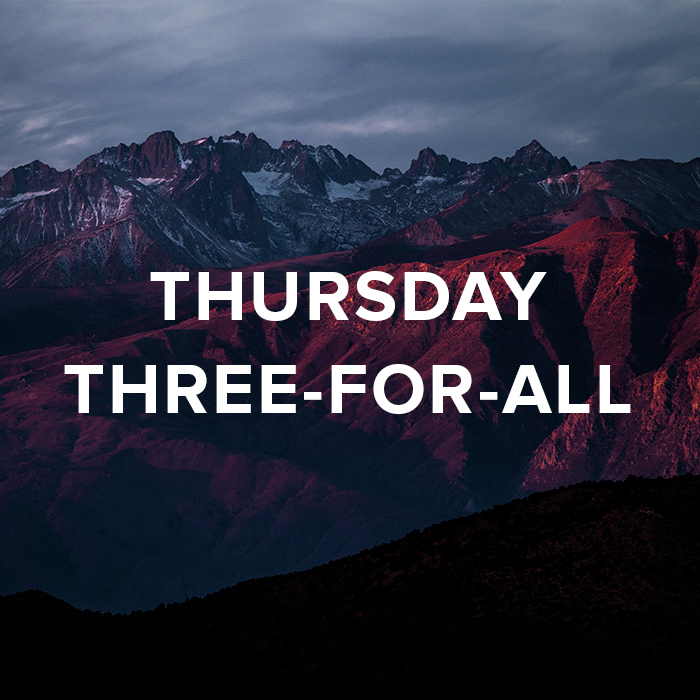 It's Thursday, kiddies: the day when I roll out a few things I've been reading over the past week. Three of 'em, to be exact. Enjoy. (Remember: click on the big bold print to read the entire article.)
(via @tonymorganlive) This is a good follow up to a recent post where we discussed getting first time guest information.
I encourage churches to be proactively engaging guests as soon as they walk up to the building before services. Many churches have kiosks set up at their main entrances with signage that asks simply, "First time here?" That makes it obvious for first-time guests that they should start at the kiosk. That creates an opportunity to help point them in the right direction, and track the number of guests showing up.

Additionally, you can track guests by encouraging them to submit a connection card. Savvy churches will offer gifts in exchange for guests submitting a card. You can also track guests through kid's check-in, giving, event sign-ups, etc. Simply thank them for taking that step and ask, When did you first connect with the church?

If that's too difficult or too intrusive, at a minimum, start tracking new people in your database each month that make some sort of next step beyond your email list.
(via @_michaelkelley) Michael has the unique ability to punch you in the gut but make you thankful that he did it. As a dad of four kids from six to almost 21, this is a good reminder to me that we need to redeem the dinner table.
One of the most precious times we have together as a family is dinner. Thankfully, we have so far not had to fight very hard yet to protect it. I know that might change in the years to come, but because it has become so important to us, I am beginning to think that it's worth the fight. It's one of the only moments during the day when we, consistently, sit down together with no distractions. And around that table, we've talked about presidential elections and their implications, historical events, problems at school, family dynamics, and a host of other things.

It's important. It's one of the places where we establish the culture of our families, where we share burdens, and where we find our at a deeper level the things that are really going on in our lives. It's true, we can do this as parents with children individually, but hopefully as we share together we are not only helping our kids relate to us as their parents, but also relate to their siblings as well.
(via @theatlantic) No, not that Groundhog Day. The truer and better Groundhog Day. This article is now a few years old, but it's still an oddly deep dive into the metaphysical nature of one of Bill Murray's best works.
It's high-concept, but then, so was Franz Kafka. At early meetings between Rubin and Groundhog Day director Harold Ramis (with whom he collaborated on the screenplay), the two discussed the possibility of an external cause for Phil's predicament—a magical clockmaker, maybe, or a gypsy's curse. In the end, however, they thought it best to leave the recurrence of Groundhog Day unexplained. This was a profound creative decision. As in Kafka's The Metamorphosis, the rupture with normality—the hex, the divine accusation, the black joke—has the appearance of arbitrariness. Gregor Samsa awakes one morning to discover that he has turned into a giant insect; Phil Connors awakes one morning to discover that the world is repeating itself.
photo credit: Jason Mathis