Remembering Doug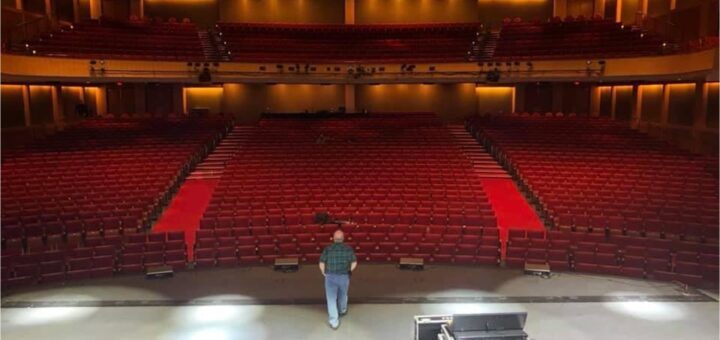 Last Thursday, our church lost a giant. A family lost a husband and a dad. And all of us lost a friend.
Doug Martelon had been a part of the Summit family since 1994 and the Franks family since 2002. Many, many tributes have been written on social media (not the least of which was that of our pastor, which you should read or watch here).
If you were a part of the Summit and didn't know Doug, that was by his own design. He was literally behind the scenes at every event, campus, venue, and meeting space we've ever been in. He was our Production Specialist, a fancy title that carried a ton of grunt labor. Doug came to us with years of experience in the theater and large-scale productions, but he wanted his gifts to be used to further the gospel. When I tell you that Doug was one of the most brilliant people I've ever known, don't take that as hyperbole, but reality. And then multiply it by 100. And then you'll just begin to scratch the surface of the kind of mind he had.
Over the past few days, I've mourned and cried and questioned Doug's death. I've cursed covid, which took him too soon. But in the middle of my grief, I've realized that there were three ways most of us loved Doug:
We loved Doug for what he could do.
There's that "brilliant" label again. There was never a project that Doug couldn't make a thousand times better than what we could imagine. He could walk into any space and visualize exactly what it needed. In the years we worked together, I never saw him write anything down. Not one single thing. And yet nothing escaped his notice. He never forgot something he promised and never overlooked anything you asked for. He might argue about whether or not you needed it, but a half hour later he'd drop by your desk to ask what color you wanted. 🙂
Doug's fingerprints are on nearly everything we have and do at the Summit…literally and figuratively. Any lobby monitor you see hung, any lighting package you sit under, any screen you watch, any speaker you listen to, Doug was likely the one standing on his scissor lift or precariously perched on his ladder to get it installed. He hand-made almost every cable in every building, because the way he figured it, he could save the church money instead of ordering them pre-made.
We loved Doug for who he was.
Doug Martelon was a perfectionist. A job would be done right or it would be done over. Woe be unto the man or woman who goofed off during a sound check or rolled a cable incorrectly. I told someone recently that you couldn't count yourself a part of the Summit team until you'd been yelled at over a headset by Doug. It was a rite of passage.
But it was also a rite of passage to move from "Fear Doug" to "Adore Doug." And that transition never took long. Because just as Doug was really good at production, Doug was really good at people care. Over the last few years I had the chance to work more closely with him as we reported to the same supervisor. The stories from our team of Doug's loyalty and friendship and protection and love and well-timed encouragement have carried us through these last few days. He would have taken a bullet for us, and we would have done the same for him.
We loved Doug for what God did through him.
In the early 2000s Doug told our pastor that he wanted to use his gifts for the gospel. While he'd already been volunteering at the church for years, that conversation led to a part-time and then a full-time role on our team. And what Doug brought in skill, he brought double in reputation. Most of the doors we walked through were because of Doug's name in the Triangle. Public schools wanted us to open a campus in their auditorium because they knew if they got the Summit, they got Doug. Major event venues went from scoffing at our inquiries to welcoming us with open arms when they found out Doug was a part of our staff. People who didn't necessarily love the church loved Doug, and Doug used that relationship as leverage for the kingdom of God. Just as Jesus loved Doug, Doug loved others. And that love was used to point people back to Jesus.
And his gifts weren't just used at our church and in our immediate community. In more recent years, it was nothing for Doug to jump in his car or hop on a plane and fly to a church plant in order to install or upgrade a system so they wouldn't have to pay for labor. This past weekend, tens of thousands of worshippers across the country were beneficiaries of a man they'll never meet this side of heaven. I don't think it's an exaggeration to say that Doug saved our church and other churches untold millions of dollars over the years, and in doing so laid the groundwork for people to be saved.
My own Doug story
As mentioned above, our team has been sharing "Doug stories" by the dozen over the last few days. I have dozens of my own, but I've chosen one that exemplifies who he was.
In March 2020, just before the globe shut down amid the coronavirus pandemic, our team was in our regular monthly meeting. As was the norm, we kicked off by sharing prayer requests. I mentioned that my daughter-in-law Alyssa (then newly engaged to my son Austin) was about to be plunged into the covid battle. She is a nurse, and her clinic was transitioning to a covid-care unit. Like everyone else on the front lines, they were having a hard time finding PPE.
Later that afternoon, Doug called me. As he usually did, he skipped all pleasantries and got down to business:
"You home?"
"Yeah, I just got here."
"Great. I'll be there in a minute. Talk to ya!" ("Talk to ya!" was one of Doug's signature sign offs.)
And in a minute, Doug pulled up in my driveway. He lowered his window and tossed me a partially-used box of N-95 masks.
"I remembered I had these left over from a painting project. Make sure Alyssa gets them. Talk to ya!"
And he was gone.
My throwaway prayer request didn't go unnoticed by Doug (and I still can't recount this story without choking up). It's indicative of what he could do, who he was, and what God did through him, again and again.
Last Thursday, Doug Martelon met his Savior face to face. And I have to guess that the "Well done, good and faithful servant" that he heard was a little louder than normal, because Doug was a servant without compare.
He rigged a thousand spotlights, but refused to stand in a single one.
We grieve with Trena, his wife of 26 years, and their son Nicholas. They lost a husband, a dad, and a hero who loved them incredibly well. He loved us all incredibly well.
I love you, my friend. I miss you. But I'll see you again one day.
Talk to ya.