Remembering Truett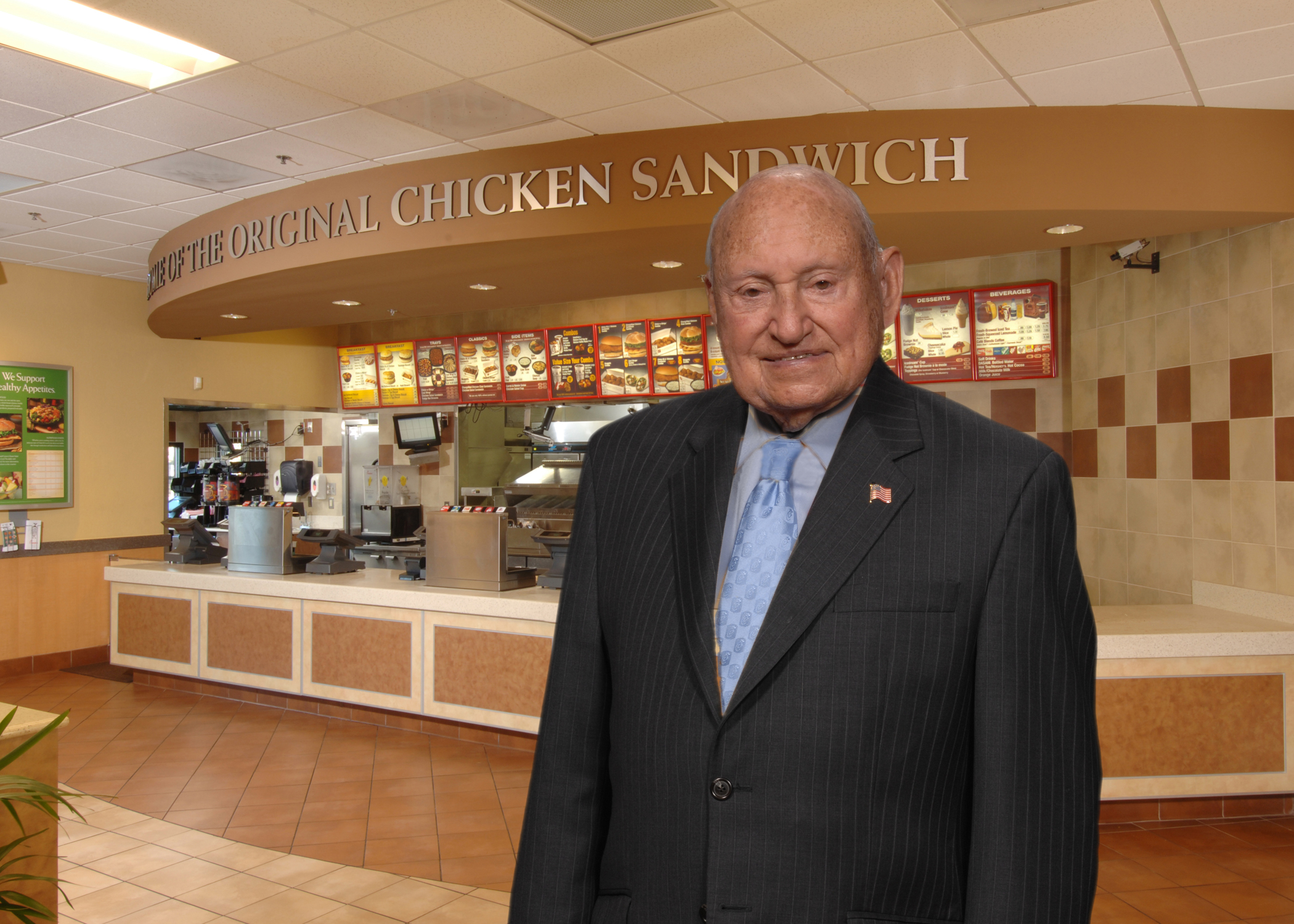 Yesterday morning America woke up to the news that Truett Cathy – founder of Chick-fil-A and indisputable godfather of the chicken sandwich – had passed away. Throughout the day I saw tributes on Twitter, Facebook, and blogs of all shapes and sizes. People from every corner of society – religious, political, business, and more – stopped to honor the man who brought quality back to fast food and maintained Christian ethic in the marketplace.
And with every new tweet, post, and entry, I couldn't help but notice that every person seemed overly familiar with Truett. (For evidence, refer back to yahoos like me who feel comfortable enough to call a 93 year old man by his first name.) It was as if they'd lost a family member instead of a fast food head honcho. And the reason for that was obvious:
Truett Cathy really did make you feel like family. 
I'll lay all my cards on the table: I'm a Chick-fil-A fanatic. I eat there way more often than I should, but way less than I want to. I have two sons who have worked there for the last few years and are moving up the leadership pipeline. I have an unusually large number of friends and acquaintances who are a part of the Chick-fil-A team, either at a local store or on the corporate level. To put it mildly, I love Chick-fil-A.
But even more than I'm a fan of the brand, I'm a fan of the man. And the man made the brand. I've read most of Truett's books. I've studied his personal and professional principles. I've watched with keen interest as he's transitioned his creation to the next generation of Cathys. Shoot, my family and I even went in full-on Chicken Nerd Mode and did the home office tour when were in Atlanta last summer (remind me to tell you about the moment when my daughter almost went through the glass display case in his office).
After thinking through the things I've read and the life I've observed (even from afar), here are my takeaways from the legacy he's left behind:
Truett had a fanatical commitment to integrity. Legendary are the stories of his honesty, fair dealings, and upright character. Several years ago he spoke before the United States Congress on the subject of business ethics. Reflecting on that moment, he said "I concluded that there is really no such thing as business ethics. There is only personal ethics. Businesses are not dishonest or selfish, people are. Thus, a business, successful or not, is merely a reflection of the character its leadership."
Truett had an uncompromising devotion to delight people. He rarely went anywhere without a pocket full of "BOG" (Be Our Guest) cards or a sack full of plush toy cows to give away to adults and kids. In his 2002 book Eat Mor Chikin: Inspire More People, he tells the story of three people who had been his customers since the first days of the Dwarf House (the predecessor to Chick-fil-A). Looking for a way to honor their loyalty, he presented them with a 1946 menu and a promise: "You eat here anytime, at these prices." I visited the Dwarf House myself recently, and the owner / operator told me that one of those three, a widower, dines with them nearly every day, getting coffee for a nickel, breakfast for thirty five cents, or a steak for sixty five cents.
Truett treated others the way he wanted to be treated. He believed that the Golden Rule wasn't just a good way to live life, it was a good way to do business. He wanted to produce a quality product, hire quality people, and provide a quality experience. On the day my family did the home office tour, we were given wooden rulers with "Do unto others…" stamped on them. Our guide told us that Truett's greatest joy was still making his way into the office a day or two a week so he could personally hand those to his guests.
Truett believed in the next generation. He and Mrs. Jeanette raised three children and celebrated 19 grandchildren, 18 great-grandchildren, and dozens of foster children. In addition, he started the WinShape Foundation in 1984 in order to fund scholarships for deserving students and youth support networks. That foundation eventually launched WinShape Camps, WinShape Homes, and WinShape Retreat. And all of us can affirm his belief in the teenagers and young adults that are employed in his stores nationwide. As a father of two employees, I'm grateful for the intentional sharpening that my sons have received in the Chick-fil-A environment. Truett didn't just want a corporation made up of frontline minimum wage employees, he wanted to create a culture where high school and college students like my own would be shaped into the men and women who will lead not only tomorrow, but today.
Truett never got past his roots. While I never met him personally, I have met his sons Dan and Bubba on a few different occasions. One of his grandsons is a part of our church. And if I ever had any doubt about the anecdotes surrounding the senior Cathy, the succeeding generations lays those to rest. If leaders are defined by the way they serve, then the Cathy family are leaders extraordinaire. I was in a local Chick-Fil-A a couple of years ago when Dan dropped in for a visit. Rather than assume the position of CEO, he crouched to pick up a dropped napkin, offered to refresh beverages around the restaurant, and sat down with employees on break to get to know them better. I met Bubba in the home office elevator, and it was the same type of experience: humble, unassuming, gracious. Great leaders serve.
Truett was a man of extraordinary generosity. I've already mentioned the sack of plush cows and the WinShape Foundation. But my one direct interaction with Truett proved his attention to detail and his generous spirit. Back in my days as student pastor, I led a "Life Lessons" retreat for our graduating seniors. As part of that event, I asked leaders within our church and leaders from around the country to write letters to our seniors, telling them their greatest personal life lesson. Our students received replies from then-governor of Texas George W. Bush, Phil Vischer (voice of Bob the Tomato), Michael W. Smith (because life lessons are friends forever), and more.
I initially received a rather standard letter from Truett's assistant, telling me that "Mr. Cathy's schedule prevents him from being able to respond to every request…", a very expected and understandable answer. But fast forward a few weeks when I returned from the retreat: sitting on my desk was a package from Truett Cathy himself. Inside was a copy of his first book and a handwritten note. In effect, it said that he hated he'd missed the opportunity to send a letter to the students, but he wanted to thank me for asking him. That small gesture from the founder and CEO of a national corporation made an impact, and now you know why I'm a fan for life.
Yesterday morning, a 93 year old short order cook from rural Georgia stepped into eternity. His business acumen and his personal wealth was no longer an indicator of success. What mattered in that moment was his relationship with Jesus Christ. It was that singular relationship that defined his life, defined his business, and defined his character. And in that moment, I'm confident Truett Cathy heard those words we all long to hear: "Well done, good and faithful servant. Enter into the joy of your master."