Thursday Three For All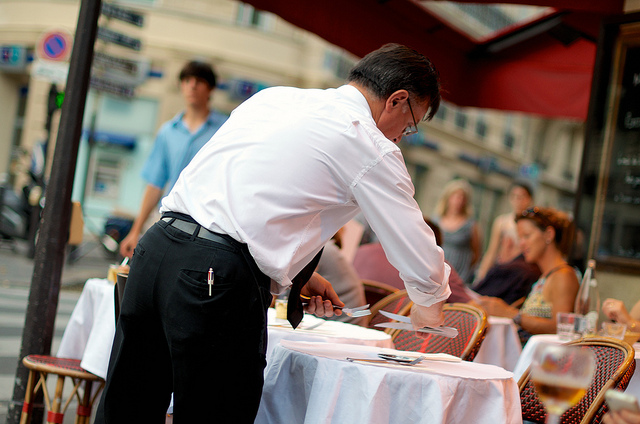 It's Thursday, kiddies: the day when I roll out a few things I've been reading over the past week. Three of 'em, to be exact. Enjoy. (Remember: click on the bold print to read the entire article.)
People Matter to God. Or Do They? (via @marklwaltz) My friend Mark blogs way too infrequently for my liking. When you read this, you'll know just what I mean.
I believe people matter to God.

Most of the time. The harsh truth is, my thoughts and behaviors reveal what I really believe at any given point. So do yours.

Like when I'm irritated that my restaurant server is not only in the weeds, but seems to be growing them intentionally. He's not attentive. My iced tea glass remains empty. I can't get his attention to send my over-cooked steak back to the kitchen. He's in too much of a hurry when he does come by the table to communicate genuine interest in my experience. Am I the only one that finds this kind of experience disappointing? Even irritating?
Take a Moment and Assess Your Workspace for Productivity. (via @lifehacker) You're welcome, fellow nerds.
Your workspace should be a comfortable combination of personality and productivity; a space that you enjoy working in, but also one that helps you get things done. This graphic doesn't touch on the personal side, but it does offer some useful tips to address the productive side, taken with a grain of salt or two.

All in all, you may not have complete control over your work environment. Not every office will let you keep personal effects on or near your workspace, but if you work in an office, you probably do have some control over the tools you have on hand to help you organize, sort, and manage your work. The graphic below is full of helpful (if not at times obvious) suggestions for assessing your workspace and making some more productive changes.
Wayward Sloth is Rescued from the Median. (via @laughingsquid) You've probably already seen this (the news is so last week), but I crack up every time I look at this little guy.
On Friday January 22nd, commuters in Los Rios, Ecuador were surprised to find out that a wayward sloth was attempting to cross the busy road. Sloths beings sloths, however, meant that the adorable creature was moving very slowly and unfortunately got stuck at the median. The Transit Commission of Ecuador became involved and was able to rescue the sloth. After a visit to the veterinarian, the capricious tree-dweller was returned back to its rightful habitat.

Danny here: that is one happy sloth.