Thursday Three For All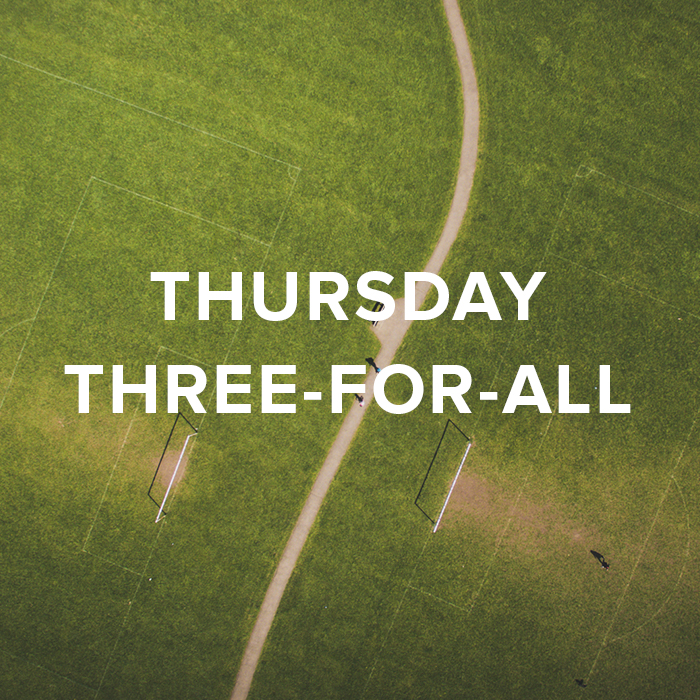 It's Thursday, kiddies: the day when I roll out a few things I've been reading over the past week. Three of 'em, to be exact. Enjoy. (Remember: click on the big bold print to read the entire article.)
(via @lukemcclain) You may not be able to do anything about vision leaks, but you can absolutely do something about patching them up.
It was not a quick cave in, but a slow one.

Leaders started having their meetings after our meetings, students were pulling out of our mid week gathering, and everything just started to feel deflated.

After many conversations and sleepless nights, I continued to ask God why things were not working the way they had been. What was different? What went wrong? How did I mess things up?

In the midst of this season of ministry I discovered that vision leaks and it must be shared constantly.
(via @robertvadams) Bob Adams is one of my favorite bloggers on guest services, and he's currently re-running one of my favorite series. This post is my favorite of that series, so boom. Triple whammy. (And also: I just noticed that I've linked to that post once before, so boom boom. Double triple whammy.)
When people are asked what impresses them the most about a trip to Disney World, one of the first answers is how clean they find the park.  People are always amazed at how a place so big could stay so clean. It shouldn't be so amazing when you realize that every one of the Cast Members is expected to help keep it clean.

Trash played an important part in the development of Disneyland, and that same ethos has carried forward to this day to all the other parks. Here's the backstory:
(via @LettersOfNote) One of my childhood heroes died this week. Willy Wonka – er, Gene Wilder – was the centerpiece of my favorite book and therefore, my favorite movie. (And before we have to part ways in our friendship, lets agree that the Johnny Depp remake was awful.) This article gives an amazing insight into his preparation for the role.
In 1970, when originally offered the lead role in Willy Wonka & the Chocolate Factory by director Mel Stuart, the great Gene Wilder accepted on one condition. "When I make my first entrance," he explained, "I'd like to come out of the door carrying a cane and then walk toward the crowd with a limp. After the crowd sees Willy Wonka is a cripple, they all whisper to themselves and then become deathly quiet. As I walk toward them, my cane sinks into one of the cobblestones I'm walking on and stands straight up, by itself; but I keep on walking, until I realize that I no longer have my cane.
photo credit: Jason Mathis