Hasta La Vista, Crybaby.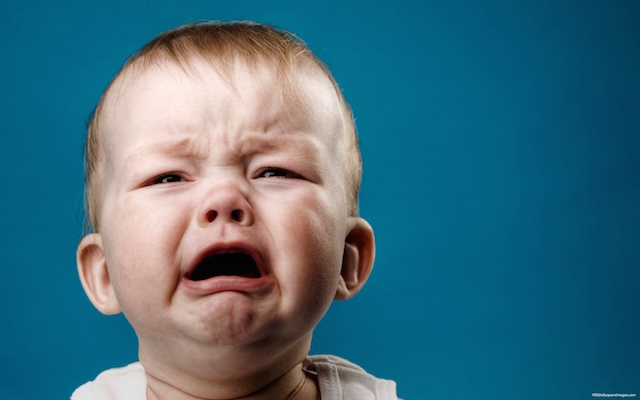 Babies are adorable (except when they're not). And even crying babies can be cute (though, I've found it helps if it's not your baby doing the crying). But what happens when a cute crying baby starts being…uh…cute…in the worship service, and can't pull it together? More succinctly put by Matthew Robinson, Connections Pastor at First Baptist Church, Orlando:
Any suggestions on how to redirect screaming babies in your services?
Let's face it: screaming babies make for frazzled adults. Whether it's a young mom desperately trying to calm her infant, a grizzled usher desperately trying to help them find an exit, or an apprehensive guest desperately trying to find meaning in the sermon, tiny tyrants raise the temperature in the room. I think there are five possible approaches:
1. Re-visit your environments for babies. Before we point a finger at parents for not taking advantage of our kids' spaces, we should ask the question: Would I want my own children to be here? Gray cinderblock walls, morose or inattentive volunteers, and lackluster programming may be the very thing that's making your adult worship spaces an escape for kids.
2. Get proactive. Make sure parents know about options for kids. Do first-time parents know about your security procedures? Have they personally met the people who will be caring for their children? Work with your kids team to create a welcome / information packet that you can distribute to expecting parents. Provide regular tours of your kids spaces and make it an event for moms- and dads-to-be. In addition, put notes in the worship guide, pre-service slides, etc. that lets parents know what you offer.
3. Place a friendly face. Consider having other young moms serve as seaters right at the door of the auditorium. They have a sympathy radar that a 50 year old male usher just can't always have. When they seat moms, they can ooh and aah over the baby, and then let them know about the alternatives above. Plus, when the baby does start crying, they are a non-threatening help for them.
4. Provide emergency parent kits. I've seen this done extremely well at Buckhead Church, part of the North Point family of churches that coined the phrase "Big church is for big people." (Let's face it: if North Point can't figure out how to deal with this issue, there's no hope for any of us.) They have reserved seating in the rear of the auditorium so parents can make a quick exit, but they also provide kits with coloring books, crayons, Goldfish crackers, Cheerios, etc. The idea is that it diffuses a tough situation with a gift ("Oh wow, these folks care about me and my kids."). And that way, if an usher does need to escort them out, the sting is taken out a little bit.
5. Remember the imago dei. The bottom line to all of this is that we must start with the premise that crying babies – and their nervous parents – are image-bearers of God. We don't honor that image by viewing them as a distraction, or a problem, or an inconvenience, or an interruption. Yes, we should seek to create environments where people can hear from God and worship him. But we should also provide environments where we partner with parents to raise the next generation, rather than pity them or patronize them when their babies do what babies are gonna do.
Want to submit a question for a future blog post? You can do that here.