Thursday Three For All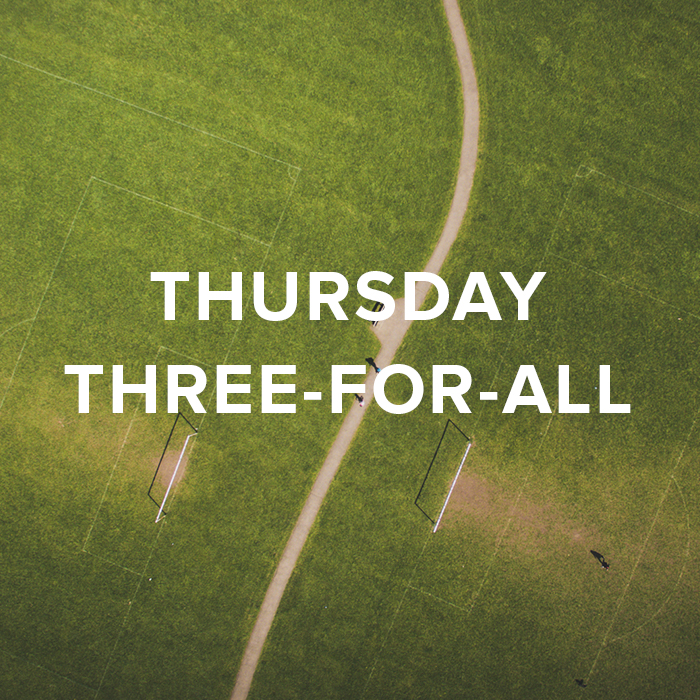 It's Thursday, kiddies: the day when I roll out a few things I've been reading over the past week. Three of 'em, to be exact. Enjoy. (Remember: click on the big bold print to read the entire article.)
(via @trevinwax) You probably missed the fact that we just wrapped up a tumultuous election cycle (it was easy to overlook). Facebook and Twitter is a constant reminder of the echo chamber that is our polarized belief system. Trevin gives some incredibly helpful thoughts about how we can keep from piling up the mess.
Too many Christians these days are "gullible skeptics." Skeptics toward establishment type media outlets, and gullible toward other websites or toward political spinmeisters who already line up with their preexisting beliefs or worldview.

What's the point in chiding the abortion industry for championing false, but "useful" numbers regarding abortion deaths in the 1960's if we are just as guilty for spreading misinformation because we find it useful or beneficial to our party?

On an episode of This American Life last year, host Ira Glass spoke with his Uncle Lenny who believed President Obama was bent on destroying America through illegal immigration and intentional disastrous policies. The misinformation came fast and furious:
(via @micahsolomon) In light of yesterday's post on the litany of options to connect, Micah reminds us of the importance of giving our people the right options, and packaging them the way they want 'em.
If your customers won't even call Mom on the phone anymore (they're texting her instead), why are you forcing them to call your business on the phone any time they need customer service or support?

In their personal lives, your customers spend five times longer messaging (texting) every day than they do on voice calls, and this is true across all  demographics: Millennials exchange an average of 67 text messages each day with friends and family, and the use of texting by older customers follows close behind. Considering this strong consumer preference for text, it's time to look into augmenting your voice-based customer support with an option that allows customers to interact with your company via text as well.
(via @lifehacker) Be careful. This is the article David Platt wants you to read.
photo credit: Jason Mathis