And So We Wait…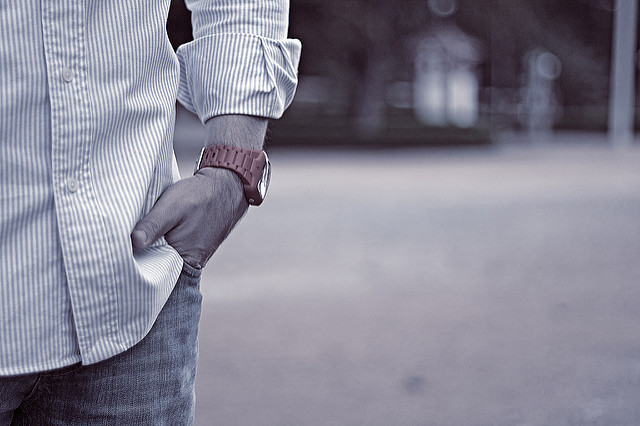 One of my favorite Christmas stories comes out of Luke 2. But it's not the Charlie Brown Christmas, Linus-holding-a-blanket, end-of-the-school-play Luke 2 recitation you may be thinking of. No, there's another Luke 2 Christmas story, a Christmas story that hits at the heart of what it means to wait.
I've never been good at waiting, especially at Christmastime. One particular year I was that kid who expertly unwrapped and rewrapped one particular gift for weeks. It was the Etch-A-Sketch Animator, and I'd begged my parents for it. I snuck that sucker out from under the tree and played with it obsessively. By the time December 25 rolled around, my parents thought I was some sort of child prodigy ("You made that dog run across the screen? Honey, did you see that? He made the dog run across the screen! Get Harvard admissions on the phone!")
But waiting at Christmas isn't all about what we hope to find under the tree. For some, there's a darker side to Christmas. For some, it's the hardest time of the year, because it seems to exacerbate our waiting. Waiting on a phone call. Waiting on a diagnosis. Waiting on her to walk back through the door. Waiting on a baby bed in a long-completed nursery to be filled. Or maybe we can't even pinpoint what we're waiting on, we just know we haven't found it yet.
That's why I love the "other" Christmas story in Luke 2:25-38, the story of two relatively obscure biblical characters who teach us how to wait well. Simeon, like most Jews of his day, was waiting on a political solution to a national problem. He'd been promised a Messiah, one who would once and for all free the nation of Israel from Gentile rule. He "came in the Spirit into the temple" that day, prompted by the Holy Spirit to see this liberator face to face.
And then there was Anna, an "advanced in years" widow who had been married for seven years and alone for nearly seven decades. She lived within the temple complex, fasting and praying and waiting for the redemption of Jerusalem. She was also there on the day that Mary and Joseph showed up at the temple with five-and-a-half week old baby Jesus in tow. This elderly woman who had likely never held a baby of her own was now looking into the eyes of the infant king who would save the world.
Simeon and Anna's stories have always fascinated me, because I think they teach us how to wait well. Specifically, I think their stories give us four ways we can better wait in our stories:
1. We wait actively.
Waiting tends to get a bad rap, because we don't actually do much while we wait. If we're waiting on an acceptance letter, we obsessively check the mailbox. If we're waiting on a diagnosis, we sit and stare at the phone and kill ourselves with worry. But the Bible teaches us that we can wait actively and trust actively. Psalm 37 is a case study for how we can simultaneously work and rest and trust and act. It's important to note that Simeon and Anna weren't sedate senior citizens sitting around the house sharing outdated memes on Facebook and playing shuffleboard down at the Moose Lodge. Every day they woke up, scarfed down their tapioca pudding, and got to work. They knew what they had been promised, and they were actively waiting and watching while they trusted in God to act. How do your daily habits prove or disprove your dependence on Jesus?
2. We wait openly. 
We know that at least Simeon expected to see the Messiah before he died. What we don't know is in what form he expected to meet Jesus. Did Simeon and Anna expect Jesus to come on the scene as a full grown adult, or did they expect 8 pound, 6 ounce, newborn infant Jesus, don't even know a word yet? I can't imagine they expected the King of Israel to be the son of peasants who couldn't afford a proper sacrifice. I can't imagine they expected the Messiah to be wrapped in swaddling clothes, still bearing traces of barn hay and donkey hair. But Anna and Simeon left room in their definition of God for God to be undefinable. If there's not room in our lives for God to surprise us, maybe it's not God that we're worshipping. What if God answers your prayers in a way that is different than you thought? Do you want the answer to prayer, or do you want the One you're praying to?
3. We wait generously. 
There were a lot of people at the temple that day, but only Simeon and Anna actually saw Jesus. At least, at first. Because Anna was outrageously excited and generous about the message of the Messiah. She didn't know how he was going to redeem Israel. At this point, the cross and the empty tomb were still 33 years away. For 84 years she had operated in faith that the Messiah would come, and at this moment, she was still operating in faith. But Anna believed, and so "at that very hour she began to give thanks to God and to speak of him to all who were waiting for the redemption of Jerusalem." (v 38) She wasn't content to sit on the information she had. And like Anna, there are people in our orbits who are also waiting, looking for hope, searching for peace. We need to be a "post-Jesus Anna," where our wonder and amazement at the Savior can serve as a tipping point to end their waiting and suffering. Who needs you to live the gospel so they can see the gospel?
4. We wait personally.
I love the imagery of verses 29-30. Imagine Simeon, clutching a tiny infant in his huge calloused hands. Tears tracking down the creases in his leathery skin and running into his beard. Head lifted to heaven and eyes squinted shut. "Lord, now you are letting your servant depart in peace, according to your word; for my eyes have seen your salvation…" Translated? "I can die a happy man now." Simeon had received what God had promised, and he had received his "depart in peace" moment. So what is yours? What is the thing that you are looking to to fulfill your deepest desires, get rid of the pain, or give you hope? If it's anything other than Jesus, then I'll humbly suggest you'll never find peace. Mary and Joseph came to the temple that day to offer a sacrifice, but the once-and-for-all sacrifice was lying in their stroller. Three decades later it would be him who was slaughtered. It would be his blood that was spilled. He would embody all of our sin and shame. He would become the liar, the thief, the abuser, the adulterer, the rejected, the outcast. He would give himself as savior of the world and provide salvation to anyone who wanted it. Immanuel means "God with us." Not "God with someone else," but God with us. With you. With me. When we know Jesus personally, he gives us the strength to wait in whatever circumstance we're in, because he's right there with us. What is your "depart in peace" moment? Is it Jesus? Is he enough for you?
Jesus is in the waiting. He's with you in your trial. He's come to be God with us so that we can have joy in our world peace on earth. Do you see him? He's here.
This post is based off of a sermon I preached at The Summit Church.