Top Ten Quotes: When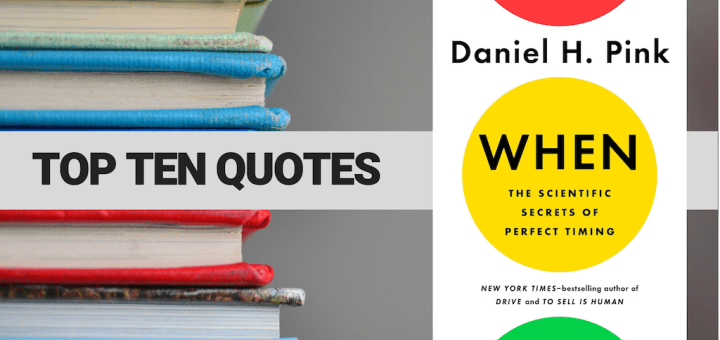 Timing matters. Seasons are a real thing. And in Daniel Pink's book When: The Scientific Secrets of Perfect Timing, he takes us on a deep dive in understanding how the clock, the calendar, and our chemistry matters in life.
Pink breaks the book up into three parts: The Day looks at those repetitive 24 hour periods and forces us to ask if we're taking advantage of them. Beginnings, Endings, and In Between will turn your understanding of resolutions, mid-life crises, and marathons on its head. Synching and Thinking is a great read for any team to discover how they best work together.
Here are my top ten favorite quotes:
Across continents and time zones, as predictable as the ocean tides, [there is a] same daily oscillation – a peak, a trough, and a rebound. Beneath the surface of our everyday life is a hidden pattern: crucial, unexpected, and revealing.
…our cognitive abilities do not remain static over the course of a day…We are smarter, faster, dimmer, slower, more creative, and less creative in some parts of the day than others.
Human beings don't all experience a day in precisely the same way. Each of us has a "chronotype" – a personal pattern of circadian rhythms that influences our physiology and psychology.
Don't drink coffee immediately after you wake up…The better approach is to drink that first cup an hour or ninety minutes after waking up, once our cortisol production has peaked and the caffeine can do its magic. (Danny here: I have started doing this, and I can attest…it's a better way!)
[on resolutions and new beginnings] …imbuing an otherwise ordinary day with personal meaning generates the power to activate new beginnings.
[on endings] For graduates and everyone else, the most powerful endings deliver poignancy because poignancy delivers significance…Adding a small component of sadness to an otherwise happy moment elevates that moment rather than diminishes it.
…the science of endings suggests that instead of fleeing [at the end of our workday] we're better off reserving the final five minutes of work for a few small deliberate actions that bring the day to a fulfilling close. Begin by taking two or three minutes to write down what you accomplished since the morning. Making progress is the single largest day-to-day motivator on the job.
For group timing [and synchronization], the boss is above, apart, and essential.
[on connection to and working with others] Belongingness… profoundly shapes our thoughts and emotions. Its absence leads to ill effects, its presence to health and satisfaction.
…we plan more effectively and behave more responsibly when the future feels more closely connected to the current moment and our current selves.
---
See all the Top Ten Quotes books on Amazon:
Disclaimer: FTC watchdogs will probably want you to know that the authors represented did not ask for this endorsement, nor did they provide me with free swag in order to do so (unless specifically mentioned otherwise on the particular page). I'm just a really satisfied customer who wants to let you know where you can get some great products. So there. Further, if you order a resource from a link on any "Top Ten Quotes" page, I may receive a small affiliate commission from Amazon. If that bugs you, feel free to bypass my link and buy from a vendor of your choice. But still: buy it. I only promote books that have benefitted me and that I believe will benefit you.