Closed Castles, Coronavirus, and Creating Anticipation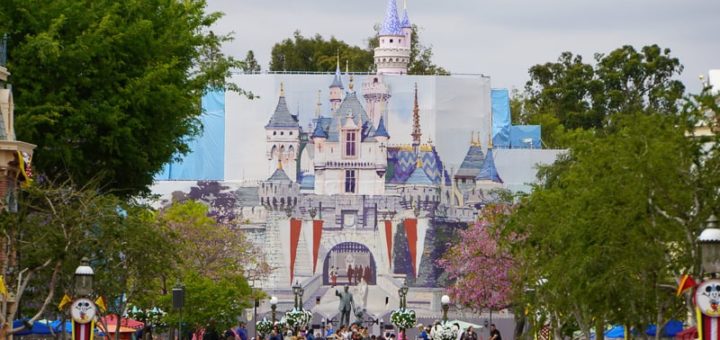 As this post goes live on April 30, 2020, we are almost seven weeks into the closure of Disneyland in California and Walt Disney World in Florida due to COVID-19. At the time of writing, there is no clear indication on when either park (or other Disney parks worldwide) will reopen. Since we can't actually attend The Happiest Place on Earth, we should at least talk about it. Shall we?
(Yes. Yes we shall.)
In February 2019 I had the opportunity to go to Disneyland for the very first time. If you – like me – are an East-coaster, familiar only with Walt's second park, let me assure you that the original needs to be on your bucket list. It's smaller, easier to navigate, and has Walt's fingerprints all over the place. And Disneyland's sister park, Disney's California Adventure, has perhaps my favorite theming of any Disney park so far.
I was excited to see the attractions that have been around since opening day in 1955: Jungle Cruise. Mr. Toad's Wild Ride. Peter Pan's Flight. Snow White's Scary Adventure. And of course, the icon of the park: Sleeping Beauty's Castle.
So you can imagine my disappointment when I found out just a few weeks before our trip that Sleeping Beauty's Castle would be closed for refurbishment while we were there. "No problem," I said in my skull's running dialogue, "even if we can't go in, we can still see the outside!"
Wrong.
Here's what we saw once we emerged from the tunnels under the train station: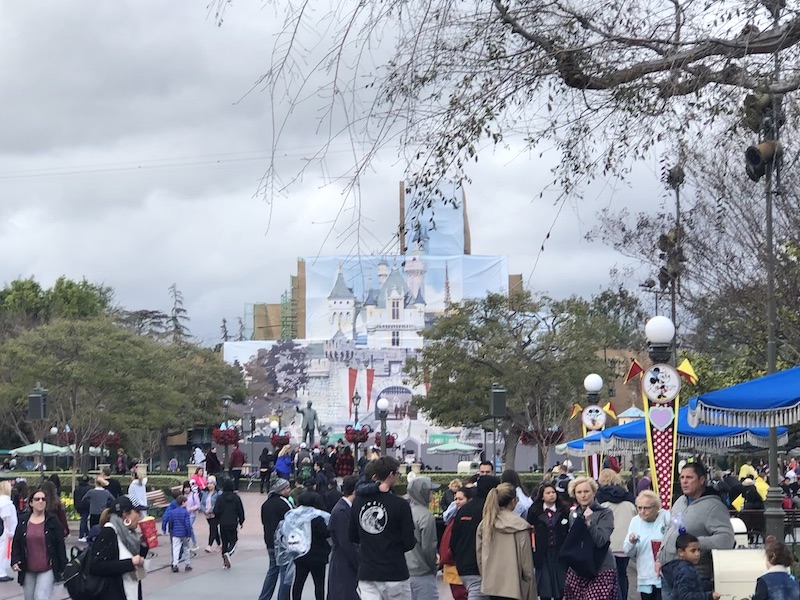 There she is: Sleeping Beauty's Castle. Covered with a painting of Sleeping Beauty's Castle. Now to be fair: am I a Sleeping Beauty fan? Nope. Never seen the movie. But did I hope to see the iconic structure on what may have been a once-in-a-lifetime trip? Yep.
(Oh, and did I mention that sunny-and-perfect SoCal was experiencing one of its coldest, wettest Februaries in history?)
I waited 46 years to see one of Disney's most notable sights get hidden behind a construction barrier. But here's why that wasn't all bad, and what I think it teaches us in this time of coronavirus:
1. Right now, we're giving our guests a preview.
In the first seven weekends of being online only, we've had 147 guests let us know that they're joining us for the first time. According to the metrics of Facebook and YouTube, it's reasonable to guesstimate that tens of thousands are in the same boat, albeit anonymously.
I'll bet the same thing is happening with your online services. Right now, you're telling your guests what to expect. Right now, you're giving them a taste of who you are. Right now, they're deciding if your online presence makes their in-person presence worth it.
So make it worth it.
2. Right now, we can make our "pardon our dust" attractive.
You'll never go to Disney without seeing something under construction. Over the last few years, I've loved the evolution of some of their projects, and the Sleeping Beauty Castle is a prime example. Rather than covering the castle in scaffolding and chicken wire barriers, they took the opportunity to erect a scrim with a nod to what is to come. No, I couldn't see the actual castle, but I could be reminded that on the next trip (fingers crossed), it would be there in all its glory.
It's not easy to put our best foot forward in an online-only environment, but it's possible. How can you dress up your "under construction" situations until you gather in person for the big reveal?
3. Right now, we can build meaningful connections.
Disneyland wasn't a bust because the castle was covered. The trip didn't flop because SoCal was cold and wet. What we lost with one castle, we gained in a thousand different interactions with rides, shows, attractions, and cast members, all of which worked together to make it all memorable.
If you have a way to connect with those joining you online, do it. (See our process here.) If you haven't been reaching out to your volunteers, the time is now. Social distancing doesn't mean we have to be socially distant. We can lay a foundation right now that we can build on when we return.
We may not know when all of our state-wide orders will be lifted and we can begin returning to normal. But we can plan right now for what will happen when we do.
---
photo credits: @bioreconstruct (header), author (body)