Top Ten Quotes: Sticky Leaders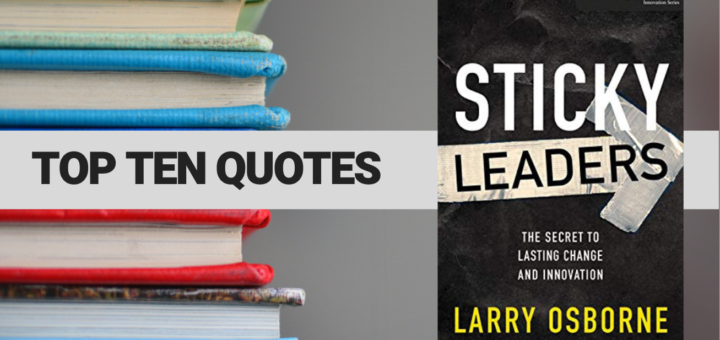 Larry Osborne is one of my faves. Wise, winsome, and practical, I've learned so much for him over the years. (His book Sticky Teams ranks among the best leadership books I've ever read.)
That's why I was surprised to discover that he'd actually written a leadership book I hadn't yet discovered. Earlier this year I dove into Sticky Leaders: The Secret to Lasting Change and Innovation. I wasn't disappointed.
---
Here are my top ten favorite quotes:
Change alters what we've always done. Innovation produces something that has never been done. But both have one thing in common: the more that they're needed, the more likely they are to be fiercely resisted.
Serial innovators size up a situation and quickly extrapolate what will happen if and when various options are taken. They not only see the natural consequences; they also see the unintended consequences that most people miss.
…never make a change when you can conduct an experiment or a trial run.
Leaders don't win awards for self-expression, for breaking the rules or being unique. They win awards for solving problems.
[A] mission statement must have three essential traits. It must be ruthlessly honest, widely known, and broadly accepted.
…vision by committee never works.
A respected champion has a unique ability to calm the troops, reframe the dialogue, and minimize resistance because of his or her wealth of credibility and trust.
I've found that initial opposition often turns to enthusiastic support once we've had the time to dialogue.
Just a couple of theys can seem like hundreds.
Having the right people at the new table almost always means that some folks who were there first will have to give up their seat.
---
---
Disclaimer: FTC watchdogs will probably want you to know that the authors represented did not ask for this endorsement, nor did they provide me with free swag in order to do so (unless specifically mentioned otherwise). I'm just a really satisfied customer who wants to let you know where you can get some great products. So there. Further, if you order a resource from a link on any "Top Ten Quotes" page, I may receive a small affiliate commission from Amazon. If that bugs you, feel free to bypass my link and buy from a vendor of your choice. But still: buy it. I only promote books that have benefitted me and that I believe will benefit you.