Top Ten Quotes: Confronting Christianity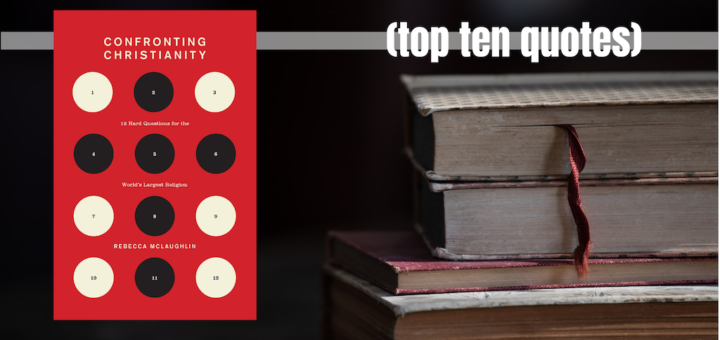 I recently wrapped up Confronting Christianity: 12 Hard Questions for the World's Largest Religion, and I was immediately confronted by three things:
Rebecca McLaughlin is crazy-smart and well-researched.
I'm not smart enough to be in her friend group, which includes everything from academics and researchers to physicians and philosophers.
If I could somehow make the cut in her friend group, and I happened to be an atheist, I would have to take seriously her arguments for Christianity…or at least not push her away when she tried to engage in some friendly debate. She's just that winsome and wise.
Confronting Christianity is not necessarily the easiest read (see point #2), but it's a great read. Pick it up, take your time, and enjoy the ride.
---
Here are my top ten favorite quotes:
…nearly 40 percent of Americans raised nonreligious become religious (typically Christians) as adults, while only 20 percent of those raised Protestant switch. If that trend continues, my secular friends are twice as likely to raise children who become Christians than I am to raise children who become nonreligious.
If I want to appreciate the texture of the Scriptures, I need to listen to brothers and sisters who grew up in cultures closer to those of the ancient Near East than my own. Every culture has its blind spots. Diversity helps us all to see.
To say that Christianity and Islam or Islam and Hinduism are just two sides of the same truth coin reduces pluralism to a patronizing posture by which we don't respect others enough to take their beliefs seriously…Conversely, to say "I think you are wrong about this" need not be disrespectful or unkind.
…Christians can make no claim to innate moral superiority. To be a Christian is to acknowledge your utter moral failure and to throw yourself on the mercy of the only truly good man who ever lived.
…when atheists reject Christianity because of the evils done in the name of religion, we must recognize that evil has also been done in the name of science. And that it is ultimately only a religious worldview that enables us to diagnose evil as evil.
The man cannot image God alone; he needs a helper…"Helper" sounds like a subordinate role. But in the Hebrew scriptures, the word helper is overwhelmingly applied to God himself, so it cannot imply inferior status.
We cannot read the Bible and not be offended – condemned even – unless we come as broken sinners. If we come like that, we are tenderly embraced.
The New Testament argues against slavery…by cutting the legs out from under it…With no room for superiority, exploitation, or coercion, but rather brotherhood and shared identity, the New Testament created a tectonic tension that would ultimately erupt in the abolition of slavery.
Suffering is not an embarrassment to the Christian faith. It is the thread with which Christ's name is stitched into our lives.
Christianity also demands that we identify with the worst criminals, but on different grounds: not because they (like us) are innocent but because we (like them) are guilty.
---
---
Disclaimer: FTC watchdogs will probably want you to know that the authors represented did not ask for this endorsement, nor did they provide me with free swag in order to do so (unless specifically mentioned otherwise). I'm just a really satisfied customer who wants to let you know where you can get some great products. So there. Further, if you order a resource from a link on any "Top Ten Quotes" page, I may receive a small affiliate commission from Amazon. If that bugs you, feel free to bypass my link and buy from a vendor of your choice. But still: buy it. I only promote books that have benefitted me and that I believe will benefit you.