Top Ten Quotes: Unreasonable Hospitality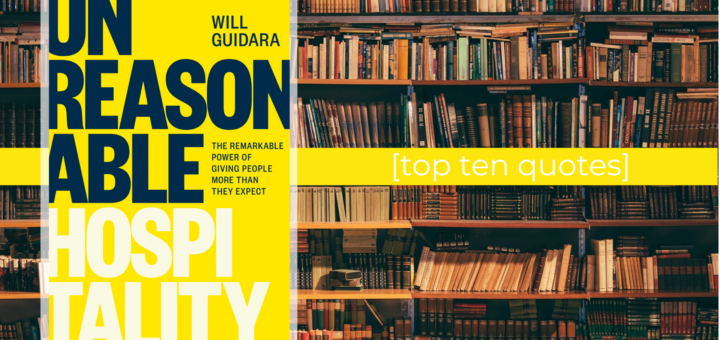 I'll just jump right in: one of the top five books I've read this year is Unreasonable Hospitality: The Remarkable Power of Giving People More Than They Expect. It's written by Will Guidara, the general manager of Eleven Madison Park in New York City. EMP is the type of restaurant I'd really like to go to but never will: it's $500 per plate minimum, there are no pictures on the menu, and at some point my Cracker Barrel upbringing is going to be exposed.
Having said that, Unreasonable Hospitality made me really want to go to EMP…not for the food, but for the service.
Two friends reached out to recommend this book to me, and now I'm recommending it to you. Will's story of knowing who you are, knowing how to serve your guests, and knowing how to create an all-around hospitable environment is a remarkable one. Read it!
---
Here are my top ten favorite quotes:
Intention means every decision, from the most obviously significant to the seemingly mundane, matters. To do something with intentionality means to do it thoughtfully, with clear purpose and an eye on the desired result.
Consistency is one of the most important and underrated aspects of being a leader.
Hospitality and excellence. Those two concepts? They're not friends.
Often, the perfect moment to give someone more responsibility is before they're ready.
Once people had gotten a feel for how good it felt to make a contribution, they would start actively looking for a way to do it again. And it was a way for us to communicate, on a person's very first day: We hired you for a reason. We know you have something to contribute, and we don't want to wait to see what it is.
The way you do one thing is the way you do everything, and we found, over and over, that precision in the smallest of details translated to precision in bigger ones.
If you've corrected a guest because you don't want them to think you've made a mistake, you've made a much bigger mistake.
…everyone cares so much about the mission, they forget to care about one another.
If you explain the why along with the what, you'll be surprised how many of these impossible ideas your team can bring to life.
"Hospitality is a dialogue, not a monologue." (Danny Meyer)
---
---
Disclaimer: FTC watchdogs will probably want you to know that the authors represented did not ask for this endorsement, nor did they provide me with free swag in order to do so (unless specifically mentioned otherwise). I'm just a really satisfied customer who wants to let you know where you can get some great products. So there. Further, if you order a resource from a link on any "Top Ten Quotes" page, I may receive a small affiliate commission from Amazon. If that bugs you, feel free to bypass my link and buy from a vendor of your choice. But still: buy it. I only promote books that have benefitted me and that I believe will benefit you.