2023 Summer Reading List: Yours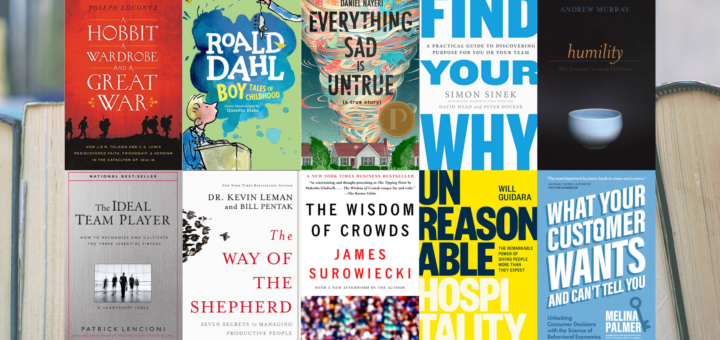 Forget what Christmas crooner Andy Williams says: for book nerds, this is the most wonderful time of the year. When I come across a post of what everyone will be reading at the beach, I stop. I ponder. Sometimes I order. Occasionally I'll judge.
Later this week, I'll post the list of what I'm reading, but for today, I'd like to offer up ten titles that you should consider. These are ten that I've read sometime in the last year that I think deserve a spot on your shelf or some bytes in your Kindle. (Do we still do bytes? Discuss.)
A Hobbit, a Wardrobe, and a Great War: How J.R.R. Tolkien and C.S. Lewis Rediscovered Faith, Friendship, and Heroism in the Cataclysm of 1914-18 (Joseph Loconte)
Boy: Tales of Childhood (Roald Dahl)
Everything Sad Is Untrue: (a true story) (Daniel Nayeri)
Find Your Why: A Practical Guide for Discovering Purpose for You and Your Team (Simon Sinek, et al)
Humility: The Journey Toward Holiness (Andrew Murray) (See my Top Ten Quotes Post)
The Ideal Team Player: How to Recognize and Cultivate The Three Essential Virtues (Patrick Lencioni) (See my Top Ten Quotes Post)
The Way of the Shepherd: Seven Secrets to Managing Productive People (Kevin Leman and Bill Pentak)
The Wisdom of Crowds (James Surowiecki)
Unreasonable Hospitality: The Remarkable Power of Giving People More Than They Expect (Will Guidara) (See my Top Ten Quotes Post)
What Your Customer Wants and Can't Tell You: Unlocking Consumer Decisions with the Science of Behavioral Economics (Melina Palmer) (See my Top Ten Quotes post)
Bonus! The Screwtape Letters (C.S. Lewis)
---
---
The good folks over at the FTC want me to tell you the following: if you order a resource from a link on this page, I may receive a small affiliate commission from Amazon. If that bugs you, feel free to bypass my link and buy from a vendor of your choice. But still: buy it. I only promote items that have benefitted me and that I believe will benefit you.