My Pleasure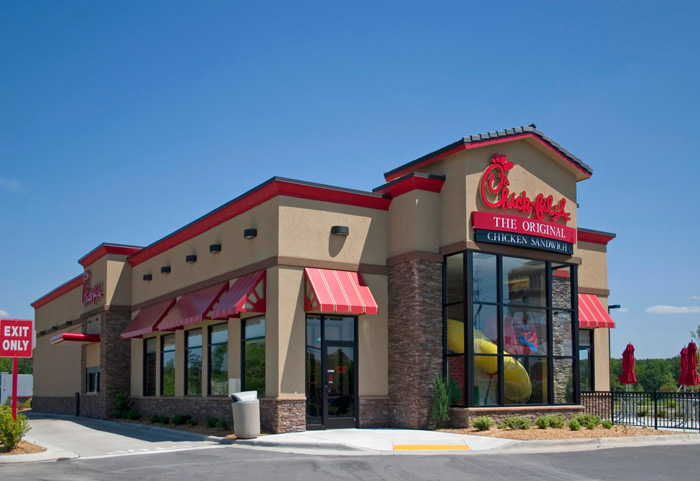 Chick-Fil-A is the undisputed customer-experience king in the fast food world.  Any Chick-Fil-A.  Any employee.  Any day…you're going to get a high-quality experience.
"Um, yeah.  I have this coupon for a free chicken sandwich, but it's for another Chick-Fil-A across town.  Is it okay if I use it here?"
Absolutely.  It's my pleasure.
"And I should probably mention that it expired in 2004.  Still okay?"
My pleasure.
"And instead of a chicken sandwich I want a Quarter Pounder with Cheese."
My pleasure.
Chick-Fil-A wants me to have it my way.  (You hear that, creepy plastic-headed King?  I'm talkin' to you.)  And they'll do whatever it takes for me to have it my way.  Accept another coupon that's "exclusive" to another CFA unit?  Not a problem.  Change the actual item the coupon is for?  Sure thing.  And they do it with a smile on their face every time.  Every.  Single.  Time.
We have some Chick-Fil-A managers at the Summit, and I've asked them, "What's the secret?"  Their answer:
Mind control and hallucinogenic drugs administered by Truett Cathy.
Actually, that's not true at all.  What is true is that the "My pleasure" culture is ingrained from the first days at the chicken kingdom.  The customer's experience is key.  The employee is there to serve, not to be served.  In his 1989 book It's Easier to Succeed Than to Fail, Cathy recounts an interview that his son Dan granted to Business Atlanta. Dan said that "The pure and simple bottom line…is a commitment to people…The restaurants are simply the vehicles by which we serve that purpose."
If you're a pastor, people are – in a way – your business.  While Jesus is the one we serve, people are the ones we connect back to Jesus.  If we dismiss people as necessary evils of our kingdom work, we betray our motivations as being something other than the gospel to which we're called.
Is serving people your pleasure?  Is your church, your ministries, your programming and end to themselves, or do they serve as vehicles to introduce people to Jesus?