You Matter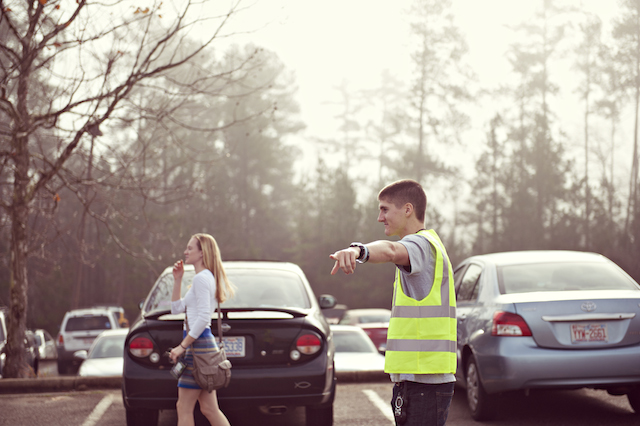 It hit me again yesterday morning. The temperature was in the 40s. The cold, cold rain was steadily coming down out of a dreary gray sky. It was a great day to be a duck. Or at least someone with enough sense to stay inside by the fireplace in a pair of fatpants (you know, for the inevitable cinnamon rolls).
And yet, there was a group of die-hard volunteers who refused to stay home. Who refused to get comfortable. Who refused to sacrifice personal preference over selfless service.
While most of us sat in a somewhat heated auditorium, a couple of dozen volunteers parked cars, directed foot traffic, opened doors, and offered umbrellas. They got cold, wet, soaked to the bone. And while I appreciate those men and women every weekend, I especially appreciate them on weekends where the weather makes a place like Seattle look downright attractive.
If you're a volunteer – indoors or out – you matter. What you do every single weekend matters. When a volunteer stands out in the rain to serve a guest, they're doing much more than performing a task. They're communicating value. They're telling a guest, "You're a big enough deal that I'll go through some discomfort to make you comfortable."
And when that happens, our volunteers are heroes.
You may think that the role you serve on the weekend isn't important. You may think that because you have stretches of inactivity punctuated by moments of panic, the team would be better off without you. You might think that if you didn't show up, no one would notice.
But you'd notice.
And a guest who got less than a five star experience would notice.
The reason you serve is because God has wired you to serve. And hopefully, he's wired you to specifically serve in a particular area. You're not a cog in a wheel – you're a contributing member of the body of Christ who's been given a real gift to share with real people.
And what you do matters.
Don't sell yourself short. Don't take your giftings for granted. Don't squander what you've been given for the cause of convenience. Serve strong. Serve well. Serve big. Serve the One who is worthy of your very best, and serve others the way that Jesus served you.
(photo credit: Brett Seay)