Do You Have An Event Checklist?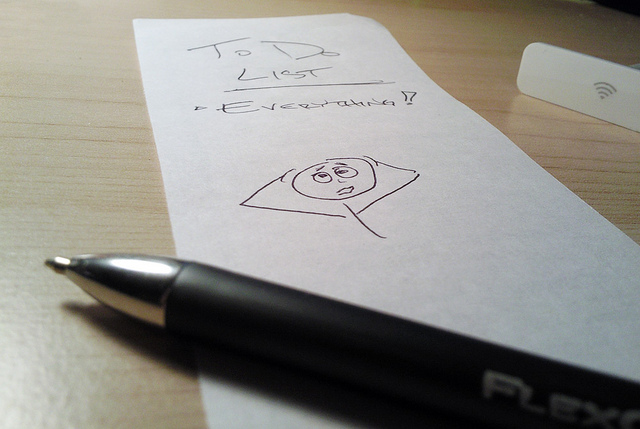 If you're in ministry, you do events. In your context, an event might be a weekly Bible study, a city-wide service project, or a weekend worship service. It could be an event that involves thousands of people or just you. It might be something that happens a couple of times a week or once every other year. And I get it: we sometimes shy away from the "e-word" because it sounds so unspiritual. But when planning and creative thought is required for a fixed occasion on your calendar…you, my friend, are running an event.
If you're going to have an event, you need an event checklist.
My feelings on checklists are pretty clear. I love them. I'm obsessed with them. I have checklists for days. If I do something that's not on my checklist, I'll write in on my checklist so I can check it off of my checklist, because I'm a psychopath. (You can see my personal checklist go-to app here.)
But I didn't always apply this thinking to the execution of events, and because of that, I wasted a lot of time reinventing the wheel of what has already been done before…thinking about things that I'd already thought about (and solved) before…and frantically scrambling at the last minute to make sure I had everything I needed.
My team runs (or helps to run) lots of events…from monthly all-campus guest services staff meetings to monthly high capacity volunteer cohorts to our annual Christmas Eve services to Workshops to Weekenders to Confabs. And because these things are rapid-fire, always on the horizon, and at varying frequencies, we came to a point where we knew we needed a tool to get us all of the same page. We needed to know which of us was doing what and when we were doing it so that on the day of the event, we could avoid that unfortunate eye twitch that signals you're about to find a quiet corner to process your life choices.
We've attempted several team-based task management systems (Asana and Wunderlist were two of the most recent), but our current protocol is a custom-built Google Sheet. We build one out for every event (using previous versions of that event as a template), and break tasks down by timeline, due dates, and point person. Here are a few screen shots of the sheet from a recent Weekender: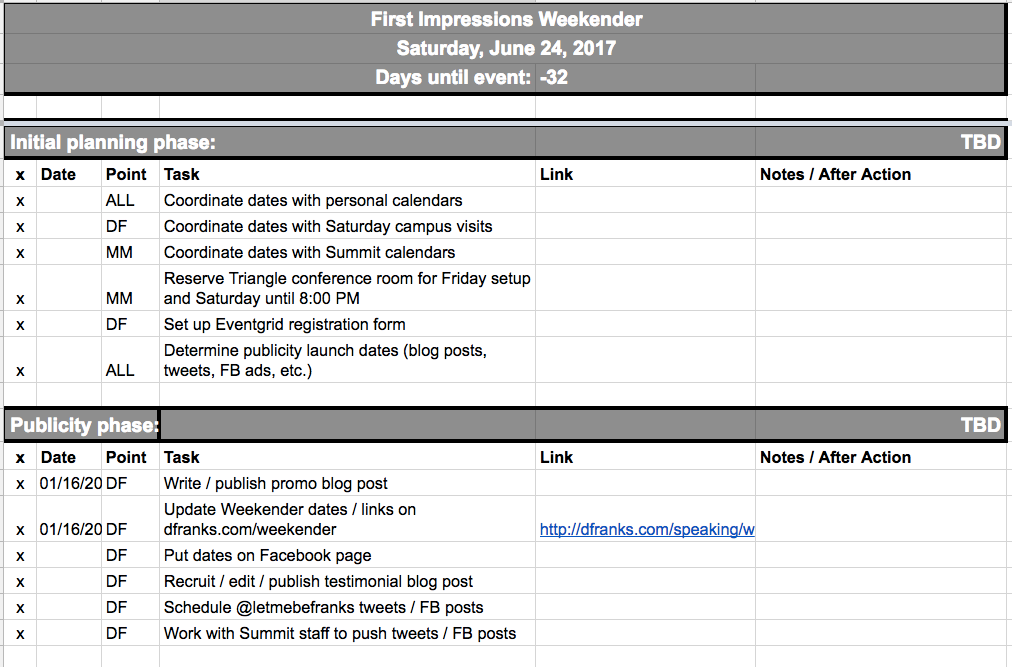 We like Google Sheets because it's highly-customizable. We can move tasks around, insert columns and rows where we want to, and shove hyperlinks in that will take us to supporting documents or apps. I personally love the fact that when a task is checked off, it doesn't disappear…something that usually happens in a dedicated task-management app. We also…finally…figured out how to hack a formula where we can put in our event date and all of the due dates below automagically populate (yeah, yeah, tech nerds…I know it shouldn't have been that hard, but it was, so shut it.). And of course, Google Sheets allows us to all be in the doc at the same time, seeing in real-time the progress each other is making.
Do you have an event checklist? If not, I'd like to help you get started. Click the link below, copy the template, and start planning your next event today.