Top Ten Quotes: Leadership as an Identity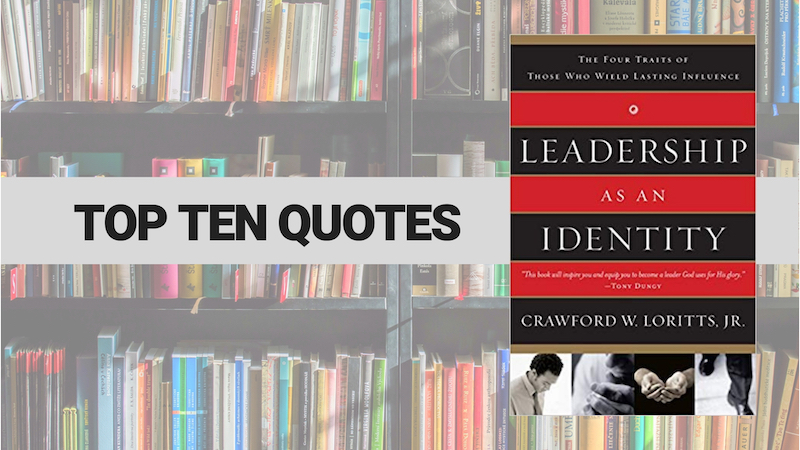 Our staff team recently read through Leadership as an Identity: The Four Traits of Those Who Wield Lasting Influence by Crawford Loritts, Jr. The book came highly recommended by a friend, so I was excited to get my hands on a copy and read it alongside the rest of our team.
Dr. Loritts tackles the tricky balance of Christlike leadership head on, and reminds all of us in the trenches that our mandate is to steward the influence we've been given. It's an encouraging and challenging read, all at the same time.
Here are my top ten favorite quotes:
…growing competence and admiration are no substitute for the consistent nurture of your soul and the commitment to overcoming sin and pursuing Christlikeness as the focused theme of our lives.
Brokenness is a conscious, core awareness that you need God in all things. A broken person has come to realize that he is nothing and can do nothing apart from God's presence and enabling power (John 15:5).
There is always a gap between what you have and what God wants done.
The fact that you don't feel qualified to do what you are doing may be the very reason why God has placed you where you are. You are reminded daily that if God doesn't come through for you, you are dead in the water.
Never underestimate the power of self-deception and the pull toward self-reliance.
Your credibility to lead is in direct relationship to your ability to endure.
A call to lead is a call to know God.
The less power you use, the more you have.
The less power you use, the more you have. - Crawford Loritts, Jr., Leadership as an Identity
Click To Tweet
Your attitude toward obedience is often influenced by your attitude toward authority.
Distraction is the archenemy of the leader. Good, wonderful things can distract you from that one "God-thing" you have been called to do.
---
See all the Top Ten Quotes books on Amazon:
Disclaimer: FTC watchdogs will probably want you to know that the authors represented did not ask for this endorsement, nor did they provide me with free swag in order to do so (unless specifically mentioned otherwise on the particular page). I'm just a really satisfied customer who wants to let you know where you can get some great products. So there. Further, if you order a resource from a link on any "Top Ten Quotes" page, I may receive a small affiliate commission from Amazon. If that bugs you, feel free to bypass my link and buy from a vendor of your choice. But still: buy it. I only promote books that have benefitted me and that I believe will benefit you.