Top Ten Quotes: Bet on Talent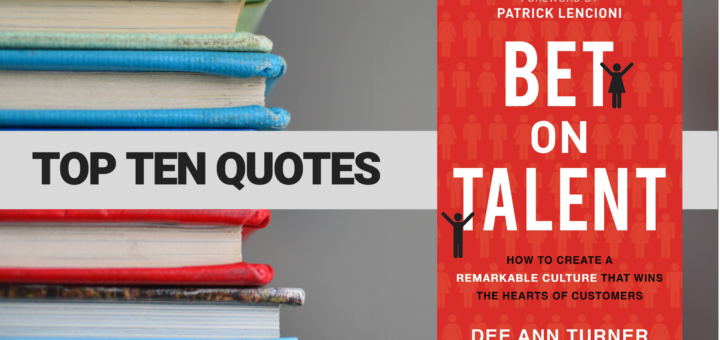 I'm a fan of Dee Ann Turner. She retired a couple of years ago from Chick-fil-A after serving as VP of Talent and VP of Sustainability. Her previous book It's My Pleasure dove into culture-making among teams.
Her most recent book took a slight turn, helping us connect the dots between a healthy team and loyal customers.
As always, if you're in church leadership and the term "customers" rightfully weirds you out, that's fine. Sub in "guests" or "congregants" or "attendees," and the principles still hold.
Turner's Bet on Talent: How to Create a Remarkable Culture that Wins the Hearts of Customers helps leaders better serve those who serve on the front lines. Pick up a copy!
---
Here are my top ten favorite quotes:
Because people decisions are the most important decisions a leader makes, they can be game changers for the culture and the organization.
When employees lack the ability to innovate or collaborate, because someone else decides everything for them, they begin to take less ownership for their jobs.
In some organizations, the core values are determined by leadership, or they are determined by observing how the organization actually behaves.
Honor others by demonstrating that you think very highly of them.
Why (Purpose) + What (Mission) + How (Values and Guiding Principles) = the "recipe" for your organizational culture. However, it is the WHO that actually produces, serves, and sells. The WHO delivers!
When I was selecting franchisees, at the end of every interview, I always asked myself a question taught to me by a former boss: "Would I want my three children to work for this person?" It's a simple question that sums up my decision.
Leaders are not called to work; they are not called to fill a position, make money, or use their authority to manage people. Leaders are called to serve.
A servant leader recognizes the tremendous responsibility not only to lead but also to serve those they lead.
If there is a line, be the last one in it.
When a customer is unhappy, start by listening.
---
---
Disclaimer: FTC watchdogs will probably want you to know that the authors represented did not ask for this endorsement, nor did they provide me with free swag in order to do so (unless specifically mentioned otherwise). I'm just a really satisfied customer who wants to let you know where you can get some great products. So there. Further, if you order a resource from a link on any "Top Ten Quotes" page, I may receive a small affiliate commission from Amazon. If that bugs you, feel free to bypass my link and buy from a vendor of your choice. But still: buy it. I only promote books that have benefitted me and that I believe will benefit you.