The One-Day Workshops are Back!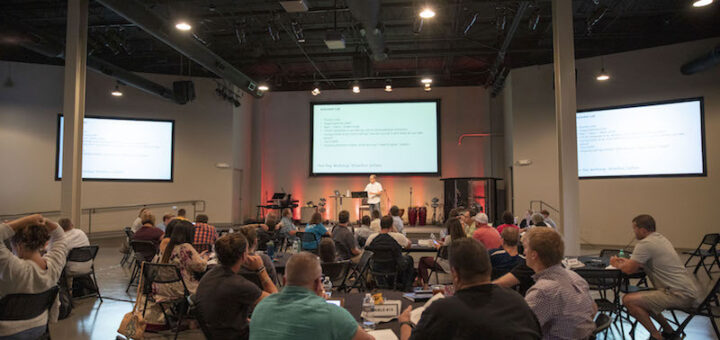 After a covid-induced sabbatical, our One-Day Workshops are coming back for a fifth year! Since 2016, almost 500 leaders from across the country have taken part in these practical training events. We're bringing them back in August, September, and October.
---
So, what's a One-Day Workshop?
We take one day and one topic and jump in. You'll get targeted training and "I can do that" ideas, all built on the foundation of the gospel. Throughout the day, you'll have the opportunity to interact with leaders from churches all over the country, sharing best practices and developing a network of encouragement and accountability. Here's what we're offering this fall…
August 31: Volunteer Culture. If you struggle with finding them, training them, keeping them, motivating them, or even firing them, you'll discover some new ways forward as you equip the saints for the work of the ministry.
September 28: Guest Services. You'll learn what it takes to build a guest-friendly culture, how to develop a vision for hospitality at your church, and how to navigate some of the challenges surrounding the "big three" … parking, seating, and first time guests.
October 19: After the First Visit. How do we move our guests from simply being connected to our church to committing to our church? We'll talk through first-time guest follow up plans, reproducible systems, and next steps that will help people stick.
Each Workshop is $99 per person, which covers breakfast and lunch, snacks and drinks throughout the day, and helpful resources that you can put into practice almost immediately.
---
Workshops are priced affordably, because we strongly encourage you to come with at least one other person from your team (staff or volunteers). Load up the van, and amplify the impact on your church! But remember: each event has limited space, and they often sell out. Lock in your team and RSVP today!
---
What others are saying:
"Exceptionally well done and informative Workshop! Everything was professionally done, on time, and well thought out. The materials and workbook were excellent." – Tom Armbrister, London Bridge Baptist Church, Virginia Beach, VA
"I was afraid [the Workshop] might not be very valuable because it was only one day and it wasn't very expensive. But…I took a chance. Wow! It was amazing information that was very practical. I took away two or three really great ideas…I will definitely come back next year!" – Laura Johnson, First Baptist Church, Bristol, IN
"This was easily one of the most informative, practical workshops that I've ever been a part of. Ultimately, I would sit through it again tomorrow, because I know there's a wealth of knowledge in there that I missed.." – Jonathan Creel, New Horizon Church, Durham, NC
"I've never been to an event that helped shape our thinking framework and equipped us with vision like this one has." – Dr. Matthew Robinson, First Baptist Church, Orlando, FL
"I've attended all three Workshops and would highly recommend all three. I will send some other team leaders to these next season." – Jay Wentz, Dan River Church, Danville, VA
"If you are contemplating attending any of the Workshops – do it! They have been so valuable to me and I believe they will be for you too. The content is strategic, thoughtful, practical, adaptable, and points to the gospel. You won't regret going – sign up!" – Christy Burke, Bridgeway Church, Oklahoma City, OK
"The Workshop provided ample discussion for our team to brainstorm and see areas to improve and HOW to improve." – Stephanie Greeson, Westover Church, Greensboro, NC
"The first One-Day Workshop I attended was so beneficial I brought an entire team to the next one…a remarkable collection of wisdom, ideas, and best practices that will equip your church to develop an authentic culture of caring." – Wes Gardner, Kiokiee Baptist Church, Appling, GA