Top Ten Quotes: Ten Words to Live By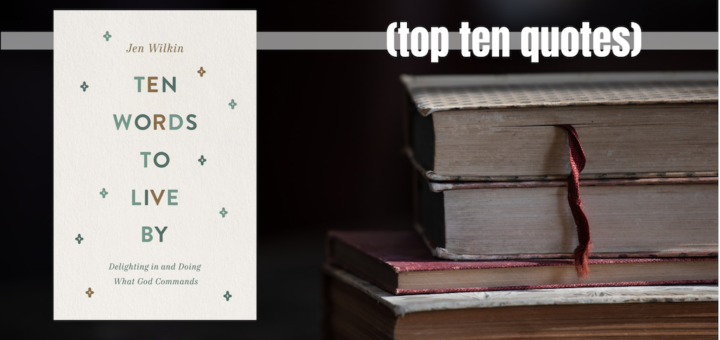 My summer reading list included Jen Wilkin's Ten Words to Live By: Delighting in and Doing What God Commands, and I'm so glad it did. Jen's exploration of the Ten Commandments was both refreshing and rebuking, and if you haven't picked up the book yet, don't break the 10th Commandment (and by all means, don't break the 7th), just order it today.
---
Here are my top ten favorite quotes:
We are created for single-minded allegiance. We are designed for it. We are made in the image of one God, to bear the image of one God. We cannot conform to both the image of God and the image of an idol.
God and God alone is permitted to make a graven image of himself. He has done so in humanity. We must not make images of God because we ourselves bear the image of God. But because of sin, we do so in a diminished way.
Christ himself understood this when he taught us to address our prayers to the holy and kingly name of our Father in heaven. With each repetition, we reinforce our awareness of the supremacy of God and the privilege of relationship with him…If formal language is formative, each time we utter a formal title for the Father, the Son, or the Spirit, we practice a small liturgy that is good for our souls.
We remember the letter of the Sabbath command by resting from labor. We remember the heart of the Sabbath command by laboring for the rest of others.
Honor is an expression of rightly ordered love…Honor rendered without love is still better for the common good than dishonor, but it is an empty obedience.
Contempt may win followers, but it is not pastoral. It masquerades as righteous anger, but it is, in fact, self-serving and self-elevating. It may make a point, but it always has a victim.
The antidote to the lust of the eyes is not self-inflicted blindness, but seeing as God sees…If we were to look at one another with the lingering gaze that sees what God sees, what would we behold?
Eve was the first human to learn that the thief comes to kill, steal, and destroy. In her story, he came scaled and slithering, lisping lies. And she, formed to bear the image of God, chose to bear instead the image of the thief.
Is your impulse to revile? By all means, wisdom begs you to remain silent. Is your impulse to defend the good name of your neighbor? By all means, open your mouth.
What is more like Satan than to want what belongs to another? … What is more like Christ than to want the good of our neighbor?
---
---
Disclaimer: FTC watchdogs will probably want you to know that the authors represented did not ask for this endorsement, nor did they provide me with free swag in order to do so (unless specifically mentioned otherwise). I'm just a really satisfied customer who wants to let you know where you can get some great products. So there. Further, if you order a resource from a link on any "Top Ten Quotes" page, I may receive a small affiliate commission from Amazon. If that bugs you, feel free to bypass my link and buy from a vendor of your choice. But still: buy it. I only promote books that have benefitted me and that I believe will benefit you.