Top Ten Quotes: Peak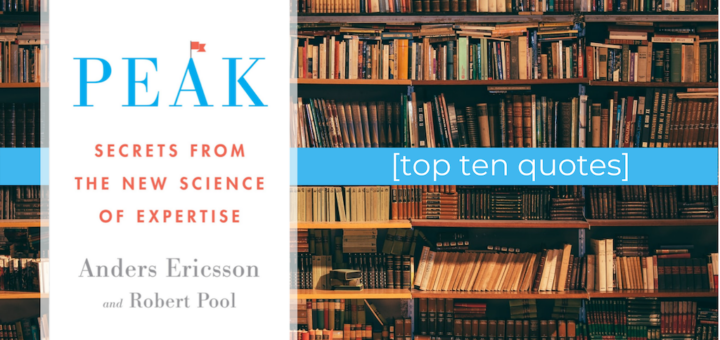 I've long been fascinated by the 10,000 hours rule, popularized by Malcolm Gladwell in his book Outliers. In it, he posits that it takes 10,000 hours of intensive practice to become a master of a skill.
Anders Ericsson and Robert Pool go deeper down this rabbit hole in Peak: Secrets from the New Science of Expertise. And it's not just theory…the authors argue that "natural talent" is trumped by practice. While it's a bit heady at times, the applications will keep you flipping pages.
---
Here are my top ten favorite quotes:
…since the 1990s brain researchers have come to realize that the brain—even the adult brain—is far more adaptable than anyone ever imagined, and this gives us a tremendous amount of control over what our brains are able to do.
…it no longer makes sense to think of people as born with fixed reserves of potential; instead, potential is an expandable vessel, shaped by the various things we do throughout our lives. Learning isn't a way of reaching one's potential but rather a way of developing it.
Purposeful practice is all about putting a bunch of baby steps together to reach a longer-term goal.
You seldom improve much without giving the task your full attention.
Without feedback—either from yourself or from outside observers—you cannot figure out what you need to improve on or how close you are to achieving your goals.
If you never push yourself beyond your comfort zone, you will never improve.
If you wish to become significantly better at something, you can.
If you don't know for sure what constitutes improvement, how can you develop methods to improve performance?
…once you have figured out the right question to ask, you are halfway to the right answer.
…practice itself may lead to physiological adaptations that produce more enjoyment and more motivation to do that particular activity.
---
---
Disclaimer: FTC watchdogs will probably want you to know that the authors represented did not ask for this endorsement, nor did they provide me with free swag in order to do so (unless specifically mentioned otherwise). I'm just a really satisfied customer who wants to let you know where you can get some great products. So there. Further, if you order a resource from a link on any "Top Ten Quotes" page, I may receive a small affiliate commission from Amazon. If that bugs you, feel free to bypass my link and buy from a vendor of your choice. But still: buy it. I only promote books that have benefitted me and that I believe will benefit you.