Top Ten Quotes: The Come Back Culture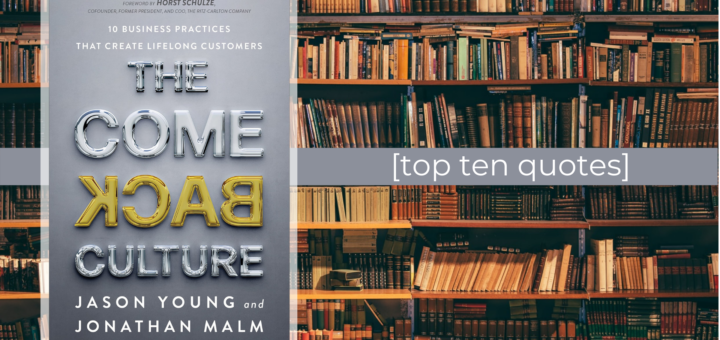 I'm doing a rare author giveaway today…stay tuned until after the quotes.
I've long been a fan of my friend Jason Young. Whether we're talking about his previous books like The Come Back Effect or The Volunteer Effect, or his most recent venture Flash Papers, Jason is a consistent fount of wisdom.
In his newest book The Come Back Culture: 10 Business Practices That Create Lifelong Customers (with his frequent co-author Jonathan Malm), Jason gets back to his roots of business consulting, helping the marketplace understand what it takes to win and keep customers.
According to Jason, there are some similarities and overlaps between The Come Back Effect and The Come Back Culture. While there are different stories and other changes, the framework is similar, if you're familiar with that initial book. (On a personal note, I read both books and took away different things from each.)
Even if you've already read The Come Back Effect, The Come Back Culture would be a great book to buy and gift to a business leader in your church. In fact, I already recommended it to a friend over lunch a couple of weeks ago, because these are problems he's trying to tackle in his own culture.
---
Here are my top ten favorite quotes:
It's not about making ourselves feel good about the service we provide. It's about making the guest feel good about the hospitality we show.
When guest services becomes part of the culture of your organization, you'll notice it has these three elements: (1) It's a pervasive identity. (2) It's valued from the top down. (3) It's valued with resources.
Know the guest, and the guest will want to know you. Remember that how you feel about a guest coming in will be reflected in how they feel about you going out.
When you're unhurried, you can more easily be undistracted.
…when we talk about creating moments of surprise and delight…we're talking about moments that don't bring a disruption to the guest's comfort level.
Recovering well from a bad situation can be one of the most challenging parts of hospitality in business. But if it's done right, it can turn a bad situation into an excellent one.
If you're creating a hurdle for the guest because it's convenient for you, you won't like the results of what that says about you.
…for excellence to become the standard, it has to be valued in every single corner and crevice of the business.
…it's impossible to have policies in place that cover every situation. Unexpected things always happen. Hospitality happens in the way you deal with the unexpected.
Remember that when gaps exist, they get filled with information, and it's often wrong information.
---
Win a signed copy of The Come Back Culture!
Jason has graciously offered to give away a signed copy to one of my blog readers. All you have to do to enter is comment at the bottom of this post. That's it. I'm not telling you what or how to comment. You can be creative, boring, funny, morose, poetic, pathetic…whatever floats your boat. I'll pick one winner at random on Monday, June 13, and contact you with details.
---
Disclaimer: FTC watchdogs will probably want you to know that the authors represented did not ask for this endorsement, nor did they provide me with free swag in order to do so (unless specifically mentioned otherwise). I'm just a really satisfied customer who wants to let you know where you can get some great products. So there. Further, if you order a resource from a link on any "Top Ten Quotes" page, I may receive a small affiliate commission from Amazon. If that bugs you, feel free to bypass my link and buy from a vendor of your choice. But still: buy it. I only promote books that have benefitted me and that I believe will benefit you.