Top Ten Quotes: God of All Things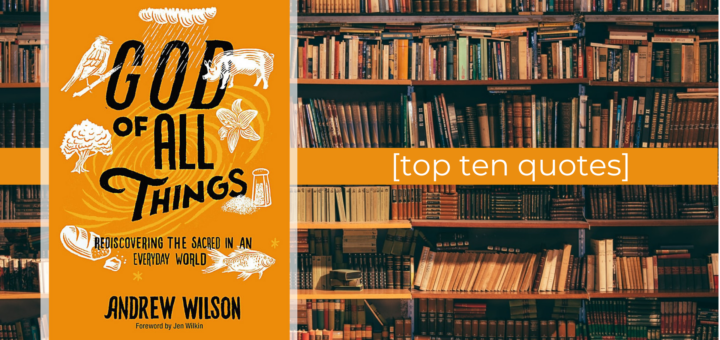 One of the most delightful books I've read so far from my summer reading list is – hands down – God of All Things: Rediscovering the Sacred in an Everyday World by Andrew Wilson. I've recommended it to several friends since finishing it, and now I wholly commend it to you.
Wilson takes 30 everyday objects from scripture – dust, water, cities, donkeys – and unpacks the glory of God in the midst of those things. It reads much like a devotional…in fact, I used it for a month to accompany my daily quiet time. And every chapter – every single one – led me to worship God more deeply and to observe this world more keenly. (Also, Wilson is a pastor in London, so his cheeky British humor makes the book even better.)
---
Here are my top ten favorite quotes:
God does not create because he has to or because he lacks anything. He creates because his delight in being God is so abundant and bountiful that it spills out into a universe of wonders.
[on dust] We may find it liberating, unsettling, or terrifying, but it is true nonetheless: one day the cells that compose us will be swirling in the autumn leaves, wedged between sofa cushions, and hidden behind radiators.
[on pigs] if you were to create a smell spectrum, from the vilest stench to the most enticing aroma, pigs would find themselves at both ends of it, depending on whether it was before or after they died…In Christ, pigs become bacon. It's the welcome of God.
[on galaxies] Why, if God is really so committed to the people who bear his image, would he bother making so many galaxies which have nothing to do with us and which we could not even see until a few years ago?…occasionally I wonder whether he did it for the fun of seeing our jaws fall open when we read Genesis 1:16 (NIV): "He also made the stars."
[on honey] A God with no stomach, no tongue, no sweet tooth, and no need for calories came up with the properties of honey before he created atoms. (Let me tell you…this chapter on honey was one of the most awe-inspiring things I've ever read. Bees are my new favorite animal.)
[on donkeys] God deliberately created some animals to be funny, clumsy, untamable, exasperating, oafish, whimsical, and just plain silly. He did it on purpose…What does it say about God's ceaseless creativity that he made so many animals like this, just for fun? What does it say about his sense of humor?
[on rain] Every droplet of water that splashes onto you or onto me is preaching to us that no matter how ungodly we are, our heavenly Father will continue to drench us with grace like rain.
[on pots] …although we are unimpressive, unexceptional vessels—and if we are honest about ourselves, we know that we are—our lives and ministries are given eternal significance by the surpassing worth of the cargo we carry.
[on light] Evil has no existence of its own, any more than darkness does; it is merely the absence of something good, like a shadow or a hole in your sock. So when the light of God's goodness shines, there is no negotiation, no tug-of-war or struggle, with the powers of darkness. Evil flees.
Everything in creation tells us something about our Creator.
---
---
Disclaimer: FTC watchdogs will probably want you to know that the authors represented did not ask for this endorsement, nor did they provide me with free swag in order to do so (unless specifically mentioned otherwise). I'm just a really satisfied customer who wants to let you know where you can get some great products. So there. Further, if you order a resource from a link on any "Top Ten Quotes" page, I may receive a small affiliate commission from Amazon. If that bugs you, feel free to bypass my link and buy from a vendor of your choice. But still: buy it. I only promote books that have benefitted me and that I believe will benefit you.