Top Ten Quotes: The Culture Solution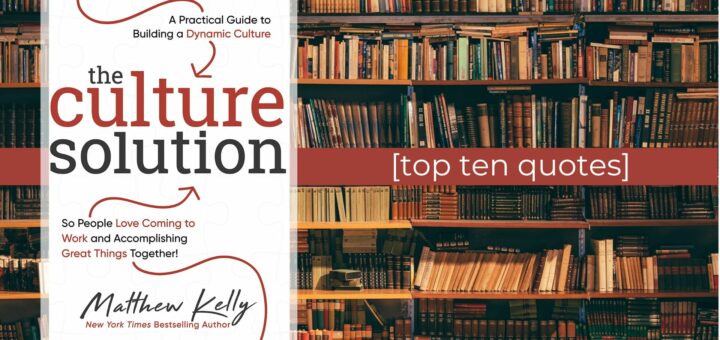 Matthew Kelly's The Culture Solution: A Practical Guide to Building a Dynamic Culture delivers on the title. It's imminently practical, and the steps he lays out really will lead to a culture that lives and breathes and takes on a life of its own.
The Culture Solution served as a huge source of inspiration for our upcoming Guest Services 2.0 One-Day Workshop, and I'm pleased to give you a little teaser of both Kelly's work and the upcoming One-Day.
---
Here are my top ten favorite quotes:
For too many leaders, culture isn't important until it's urgent, and by the time it's urgent, it's too late.
…if you don't have a vision of the culture you want for your organization and a plan to bring about that culture, a culture will emerge anyway—and sooner or later, that unintentional culture becomes a wild beast.
Don't let what you can't do interfere with what you can do. What can you do today? A Culture Advocate does one thing every day to improve his or her organization's culture.
…people don't exist for organizations; organizations exist for people. People don't exist for work; work exists for people. The larger an organization becomes, the easier it is for that organization to become soulless and without conscience.
What you measure sends a message. It tells your team these are the things that matter the most.
Every team member needs and deserves context. They need to know how the work they do connects with the mission, direction, strategy, and end goal of the organization.
A janitor with a great attitude can have a huge impact on a culture; so can one with a horrible attitude.
If you are a leader, stop thinking of yourself as a manager and start thinking of yourself as a coach.
Develop an intimate knowledge of people. What inspires and engages them? What takes the wind out of their sails and demotivates them?
When you are actively coaching your people, mediocrity has nowhere to hide.
---
---
Disclaimer: FTC watchdogs will probably want you to know that the authors represented did not ask for this endorsement, nor did they provide me with free swag in order to do so (unless specifically mentioned otherwise). I'm just a really satisfied customer who wants to let you know where you can get some great products. So there. Further, if you order a resource from a link on any "Top Ten Quotes" page, I may receive a small affiliate commission from Amazon. If that bugs you, feel free to bypass my link and buy from a vendor of your choice. But still: buy it. I only promote books that have benefitted me and that I believe will benefit you.